01.
Decide how you want to organize your board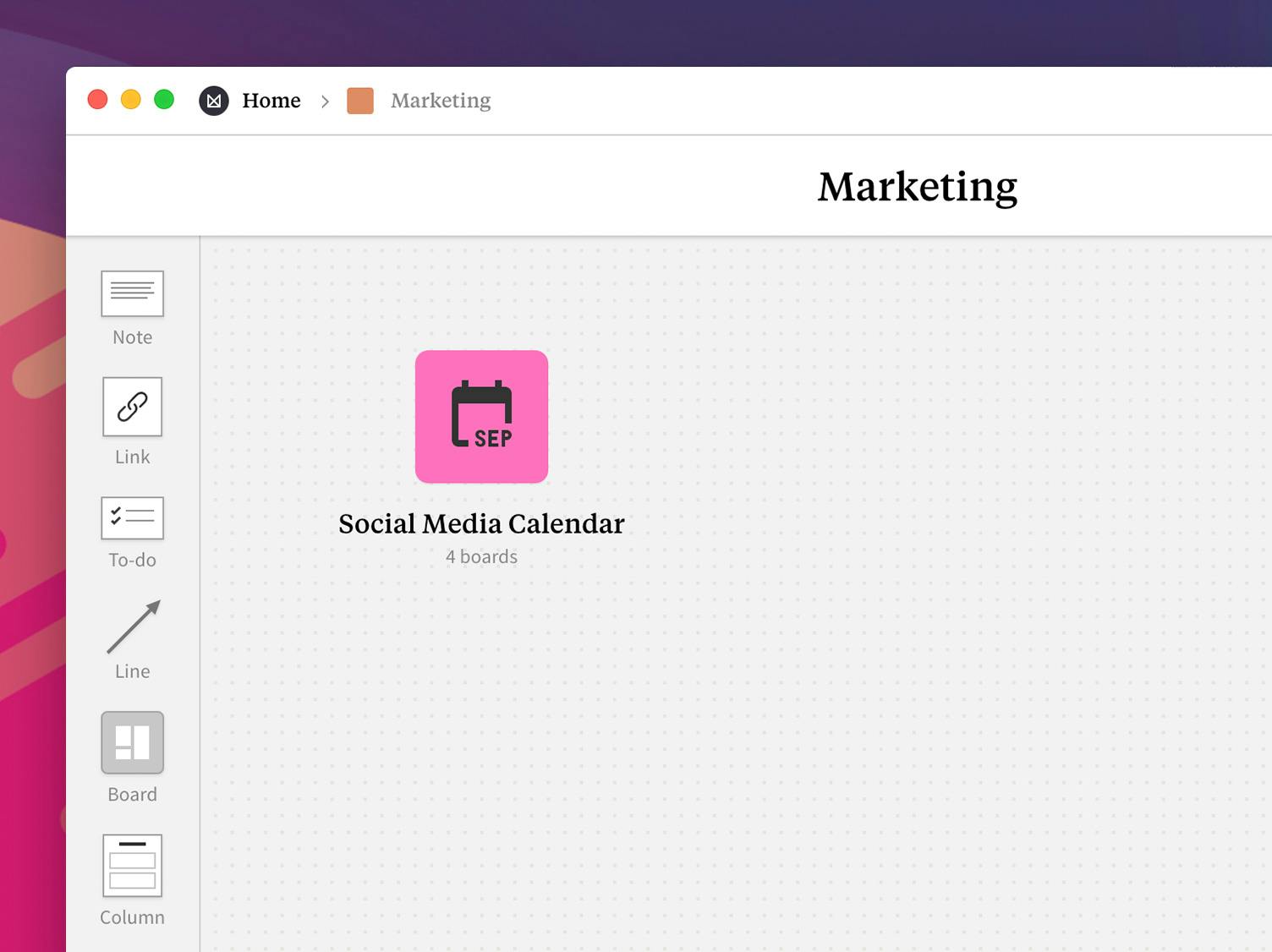 Drag a new board in from the toolbar.
Name the board based on what kind of social media calendar you're creating. For instance, will each social media outlet you use have its own calendar? Will you create a weekly or monthly calendar? (For the sake of this post, we'll be creating a comprehensive September calendar.)
Personalize your board by selecting a color and icon.
02.
Create sub-boards for each key area
Milanote's handy social media calendar template allows users to input a one-week overview of their social media posts. For now, we'll pull four such templates onto our board to represent the four weeks of September. Again, there are countless ways to organize your calendar, so play around with the options to find the one that works for you.
Drag four Social Media Templates onto your monthly social media calendar board.
Name the Templates based on how you're organizing your calendar.
Personalize your Templates by selecting a color and icon.
03.
Decide what platforms you'll be publishing on
Deciding your primary social media platforms can be boiled down to three questions: what are your goals? What platforms will allow you to target these goals? And what kind of resources do you have? Once you've determined your objectives, you can pinpoint the optimal platform to go about achieving them. (For instance, if your goal is to increase brand awareness — and you know that your target audience member is millennials who are into fashion — you'll likely find success on Instagram, where 18-24 year-olds make up 32% of users.) Lastly, don't forget to consider the number of hands on deck that you have. Be realistic about what your available resources can achieve.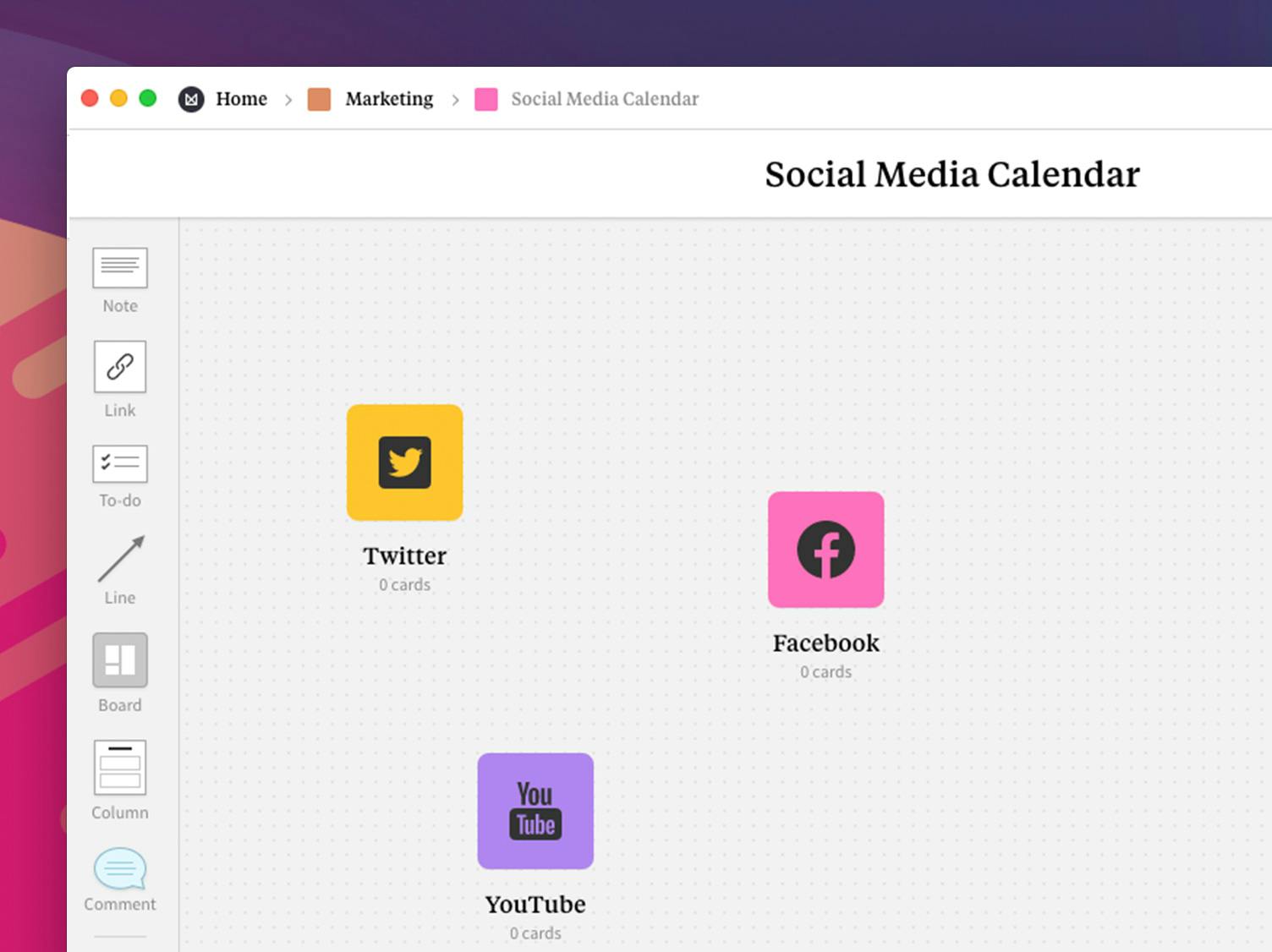 04.
Establish how often you'll be posting.
To determine your ideal posting frequency, return to our three key questions and evaluate your priorities. If your social media efforts are being run by a one-person operation, setting a goal of 20 LinkedIn posts a day will turn out to be a doomed mission. Instead, a more realistic posting frequency for one person might look something like: Twitter: 2 posts/day, Instagram: 1-2 posts/day, Facebook: 3 posts/week.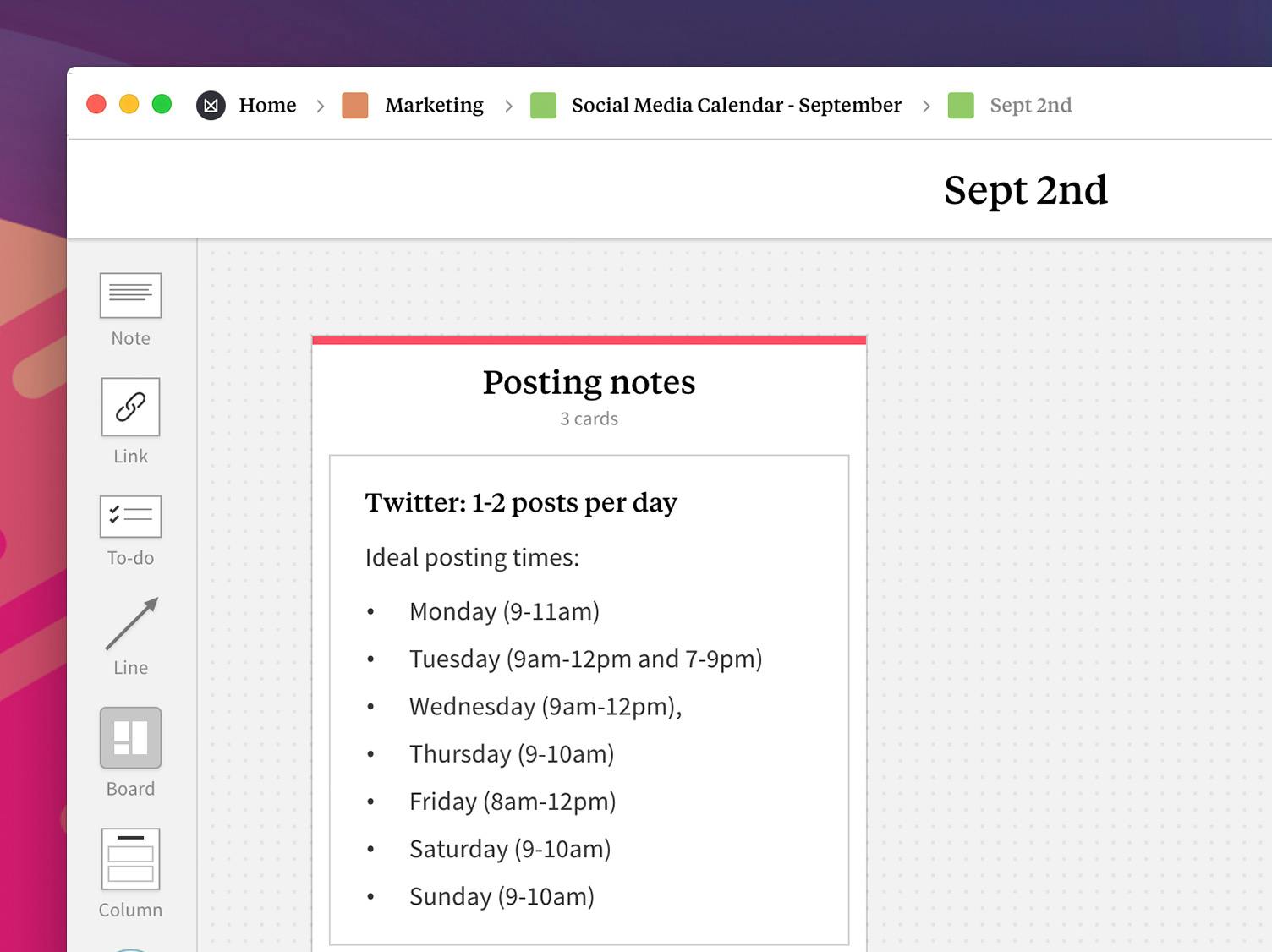 Select the week you want to fill in.
Clear the example content.
Scroll down to the posting notes and note down how often you intend to post on each platform.
05.
Pinpoint your focus for the week
Themes — either weekly, biweekly, or monthly — will ensure cohesion between your posts. The Social Media Calendar Template will prompt you to answer essential questions in this respect, such as: "What key markets or trends are you focusing on?" and "Indicate any important events on the calendar that may require an extra post." Make sure that you have a firm handle on them. Check out Biteable's excellent social media content calendar for some examples on what to focus on.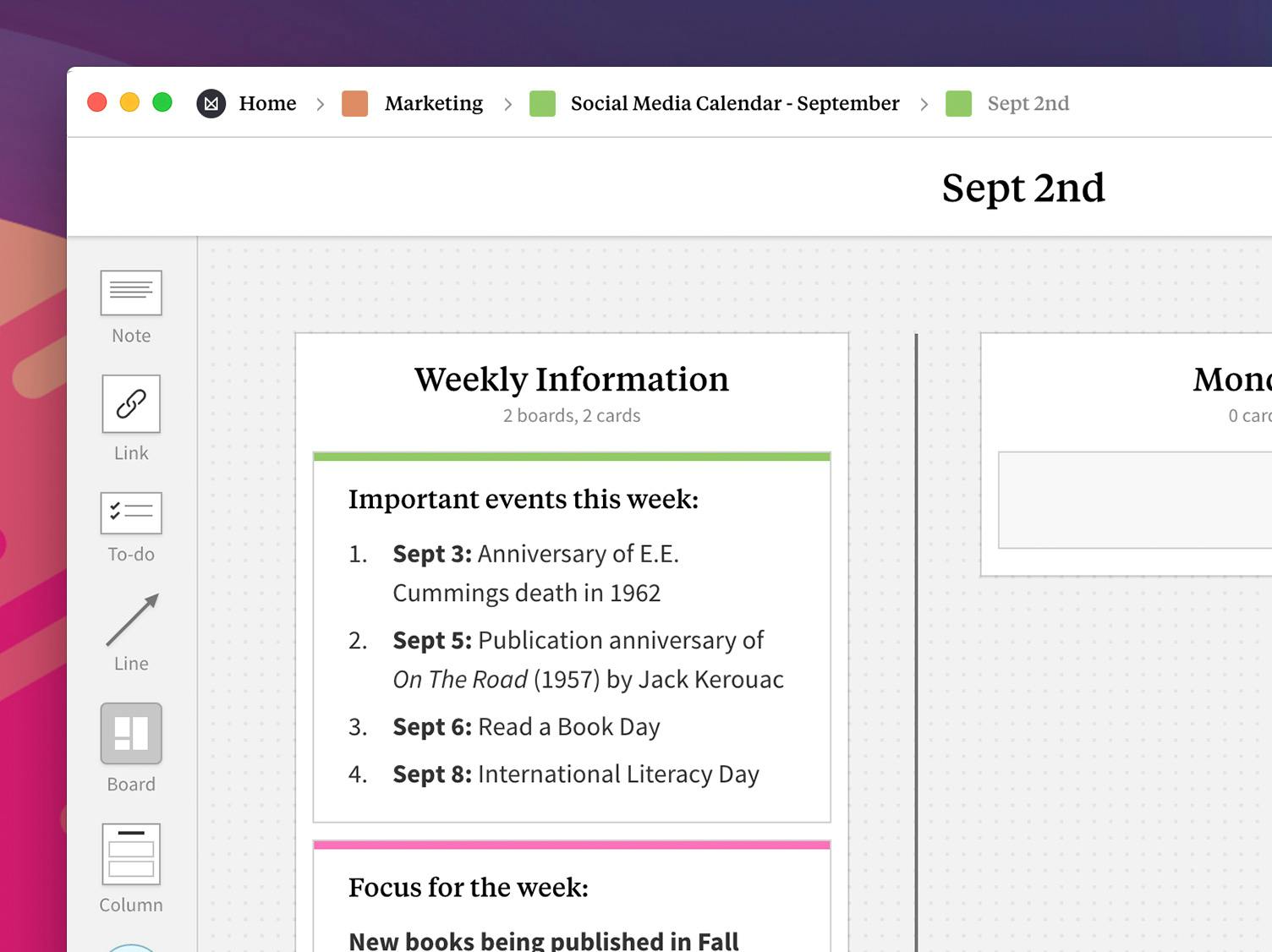 Fill in your focus for the week
Make notes about important events coming up imminently.
06.
Schedule in your content
Now comes the fun part: bringing your calendar to life by uploading your weekly posts into it. This will depend entirely on what you're using your social media accounts to achieve. Are you a self-publishing author looking to promote your titles? Do you own a local business you're trying to spread the word about? Maybe you're the head of a large marketing team? The great thing about this calendar is that it can accommodate teams, both big and small.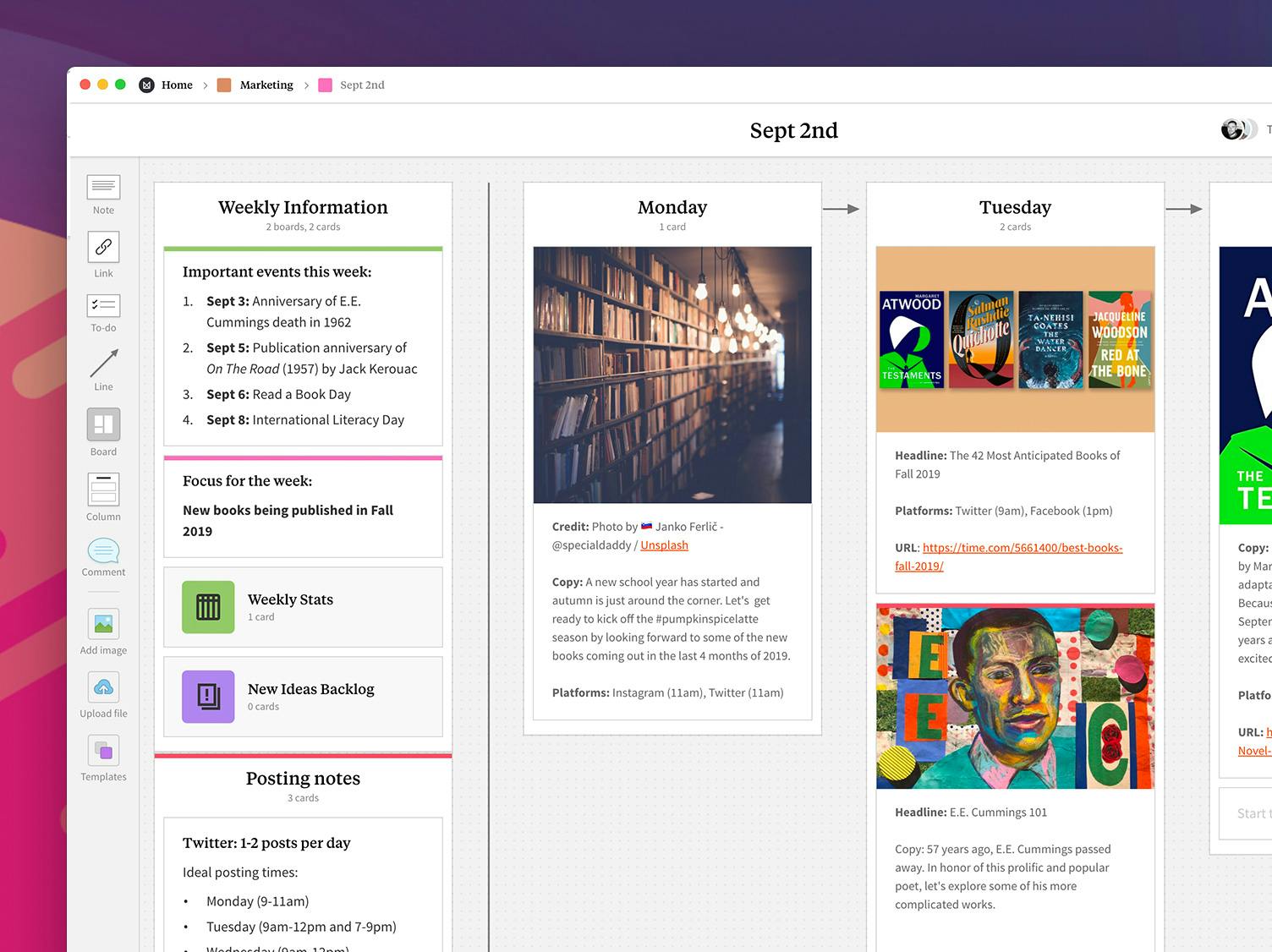 For posts that include an image, select Add Image. Either use one of Milanote's free images from Unsplash or upload your own. Drag the image into the correct date.
If you're simply going to be posting text (like on Twitter), drag a Note box into the correct date.
Add the important information as a Caption underneath: credit, custom links, platforms you intend to post on and when, headline, copy, etc.
07.
And you're done! 
Sit back and admire your work — but not for too long, as it's time to start putting all your planning to good use and posting on social media! Or you can make good use of Milanote's other functionalities.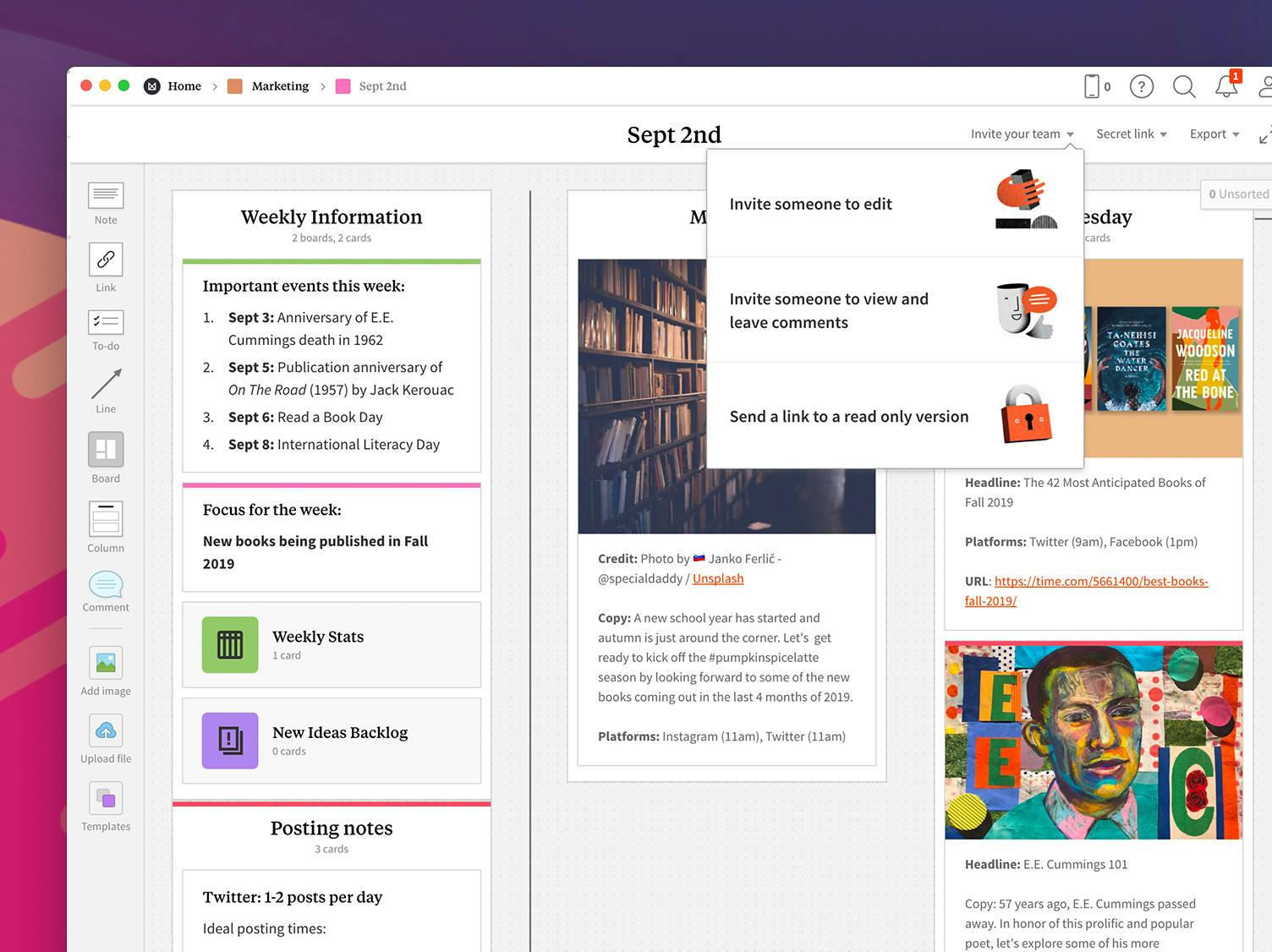 Export: you can either download the current horizontal board version as a PDF or PNG. Or you can download the linear document in Word, Markdown, or Plain Text.
Invite your team: get feedback from others by allowing them to directly edit your calendar or to simply view the calendar and leave comments.
Create a secret link: generate a handy secret link if you want others to view your calendar but not be able to edit or comment on it.