01.
The Big Picture – The Blog Post Template
So, what's the key to writing a great blog post? It's a roadmap! You need to start with a set of directions that tell you what to do first and how to get where you're going. We've created a template that guides you through the process. Instead of letting your post sit in a folder for weeks while you try to piece things together, you have a plan that you can quickly follow to completion.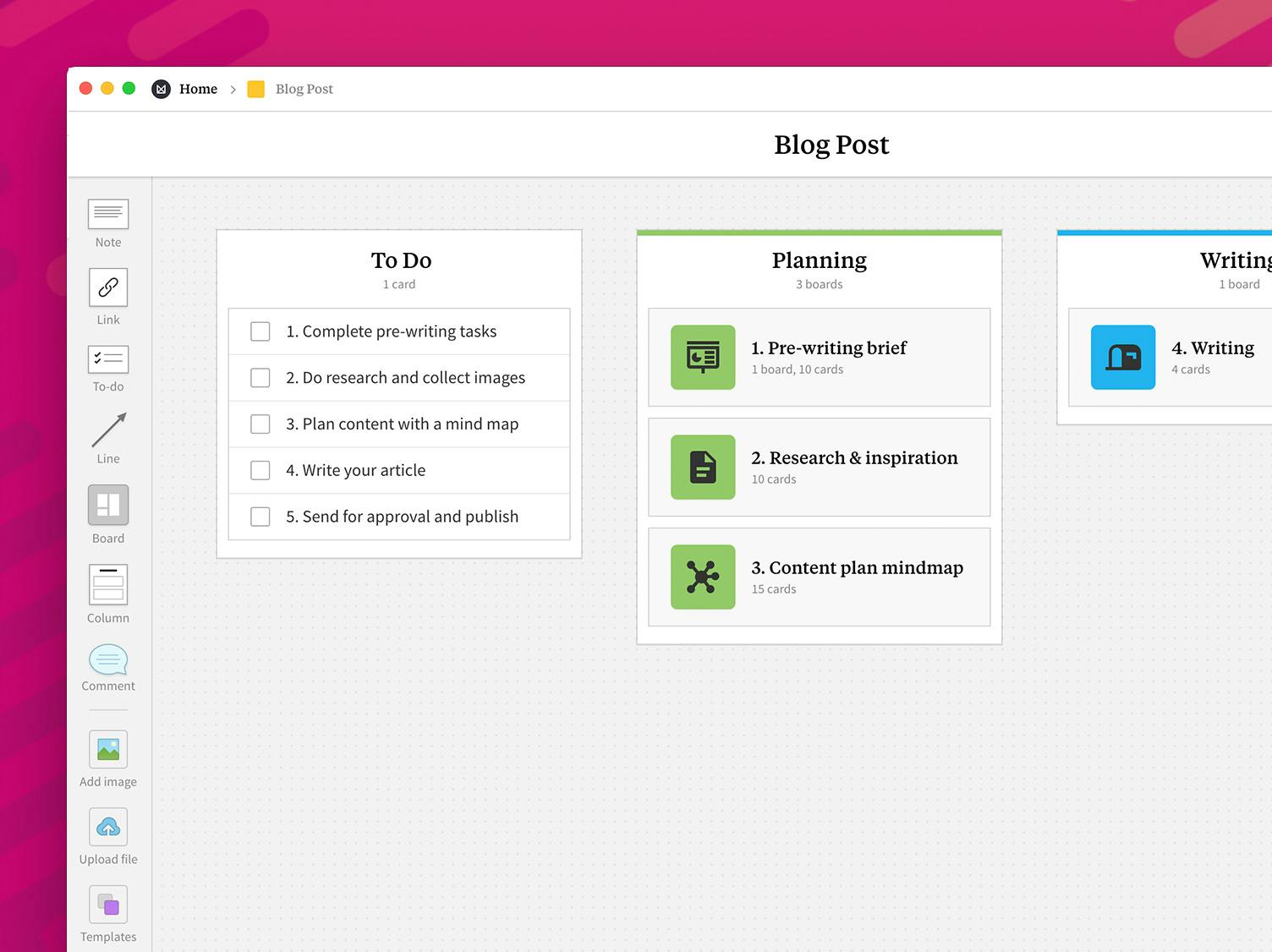 View the blog post template
02.
Prewriting
Before you start, you need to know what you want to accomplish. This stage is designed to get everyone on the same page before the real work commences.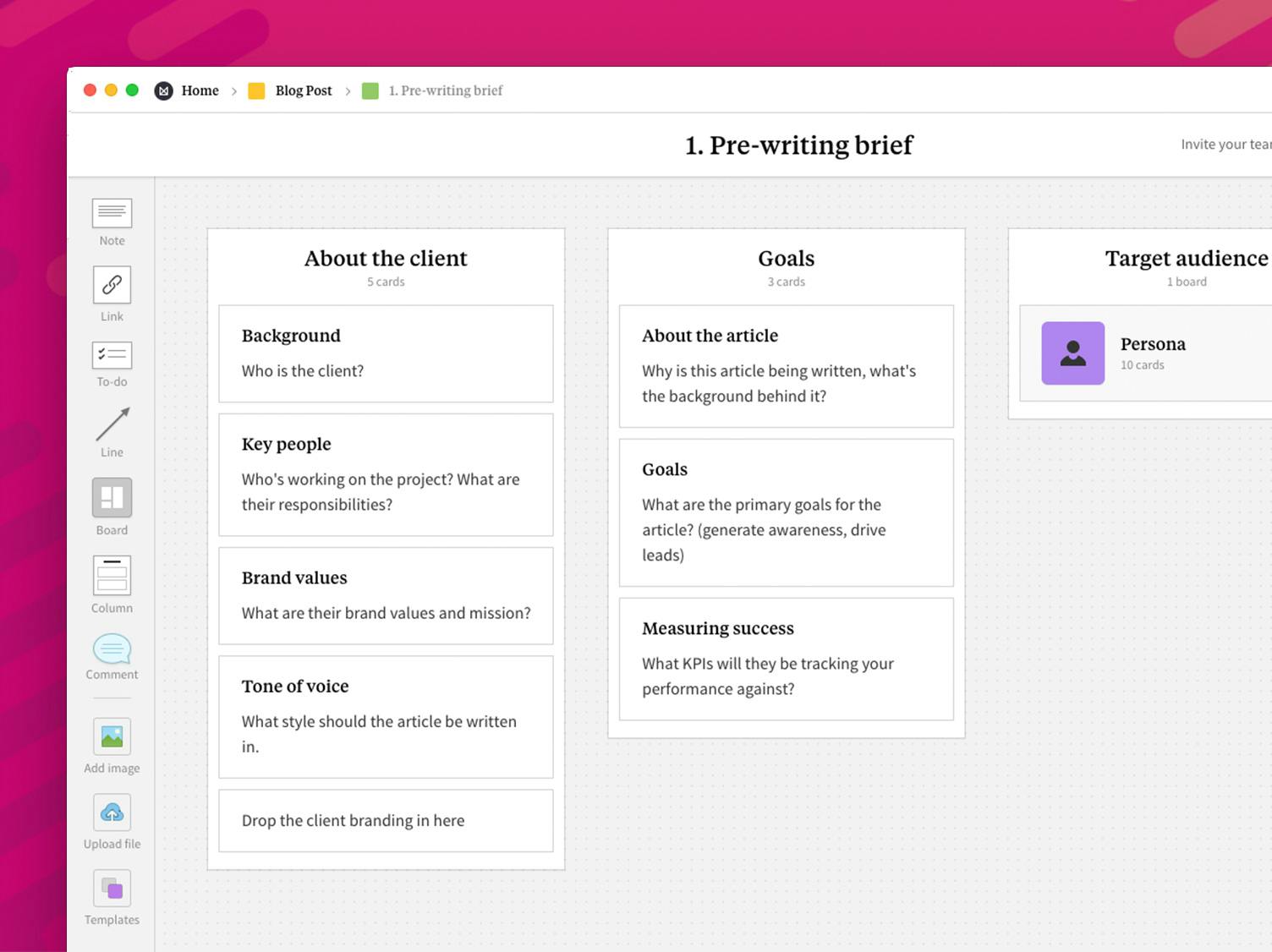 Background: Write down the key information about the client and brand
Goals: Write down the goal(s) of the article
Audience: Choose the audience persona you are writing for
Keywords: Write down all the keywords the article should focus on
03.
Research and Inspiration
Collect the latest research, statistics and quotes to support your article. A moodboard can also be used to help define the tone and visual direction.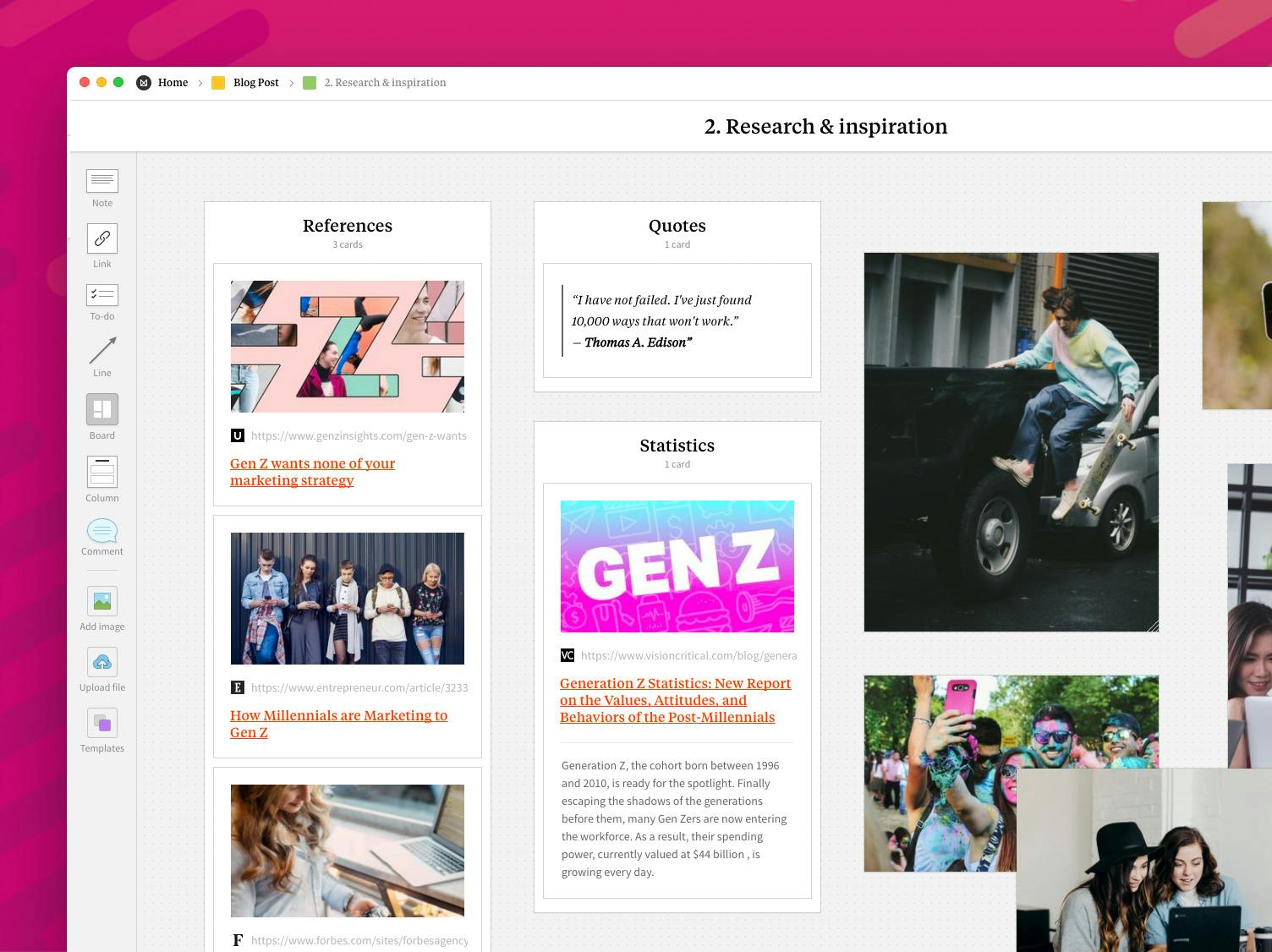 Statistics about the topic: Sites like Statista.com and Statistics.com
Quotes that illustrate emotional content: Visit sites like Quotes.com
Current online articles: Gather existing articles on the chosen topic
04.
Article Outline
Mind maps are great for taking your research and organizing it into an outline you can use to write your article. A mind map helps you see what's missing when you look at the big picture and the details at the same time.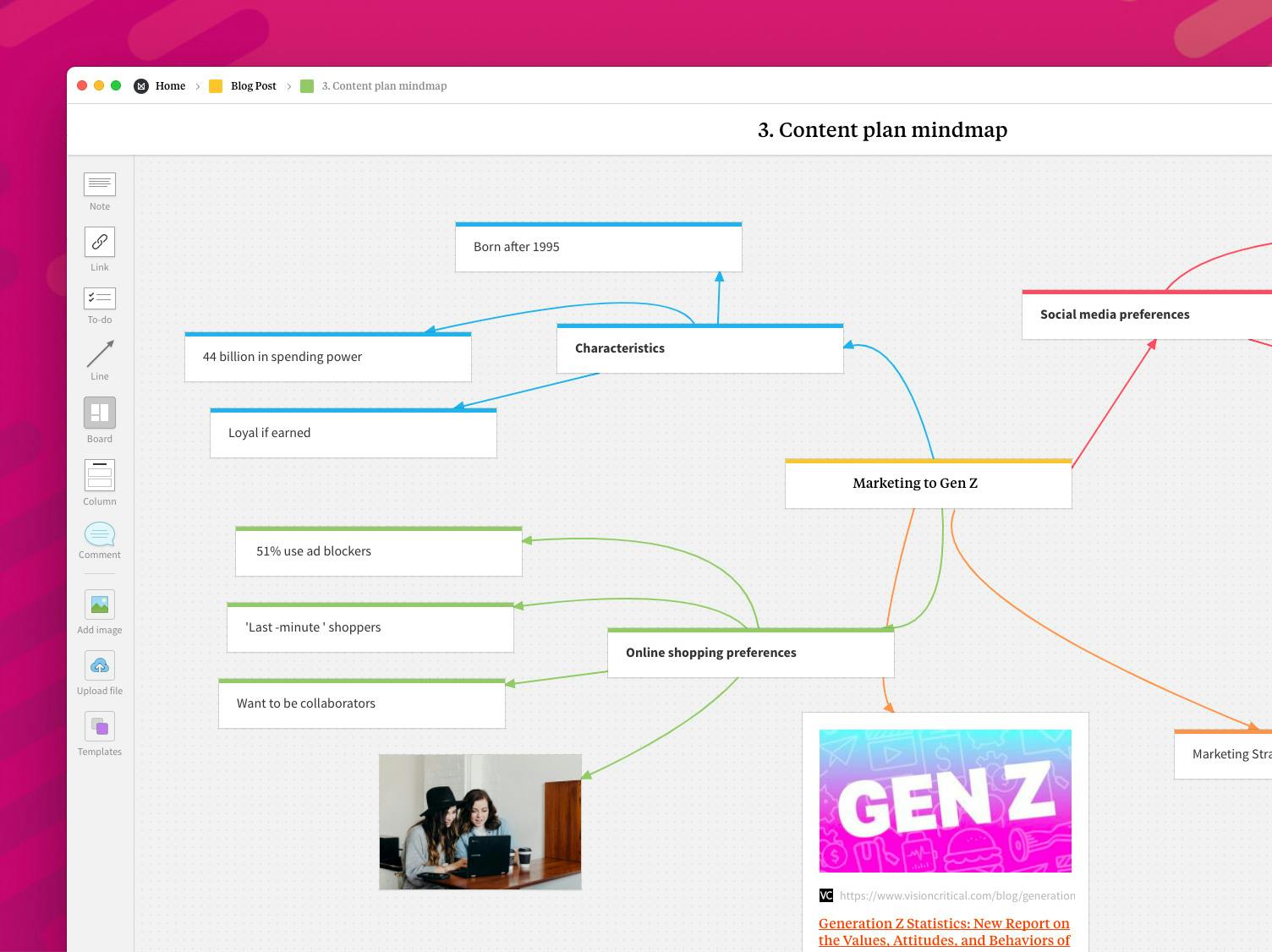 Template: Drag out a mind map from the templates section and fill in your title and main headings based on your research
Outline: Add the content to each of the subheadings that will act as your paragraph content
Expand: Finalize your map by including anything else you think should be included in your article
05.
Writing
Now you're ready to write, and you aren't working from a blank screen.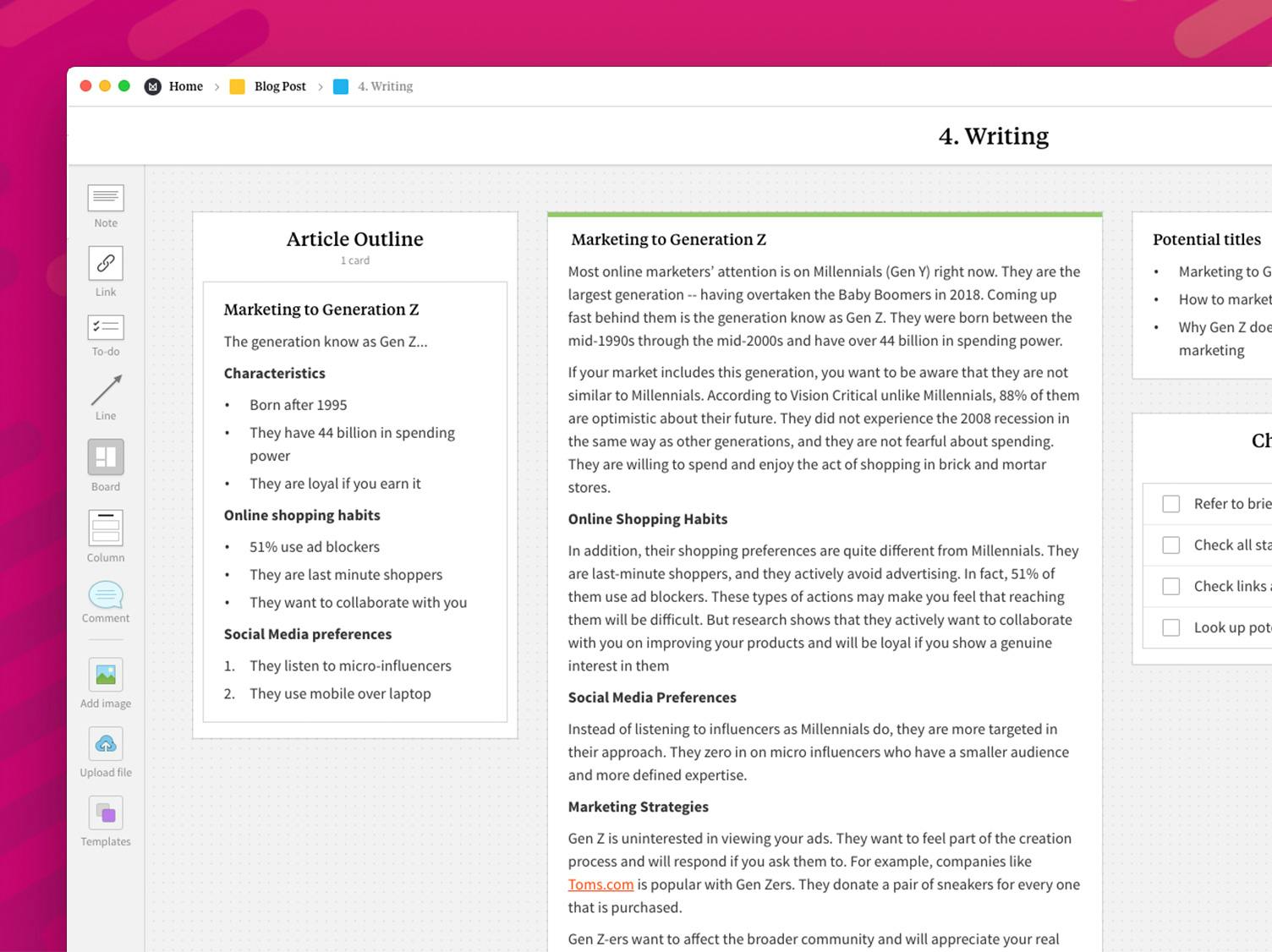 Create your outline - Using your research and mind map boards - add the title, headings, and subheadings and fill in the article outline
Use a checklist - Add items that need to be addressed during the writing process, refer to the pre-writing board for important considerations
Start writing - Drag a note and start, you can manually resize a note, or convert to long form if you want to write a more traditional document
06.
Editing and Publishing
It's time to send the post to the editor for review and prepare everything for publishing.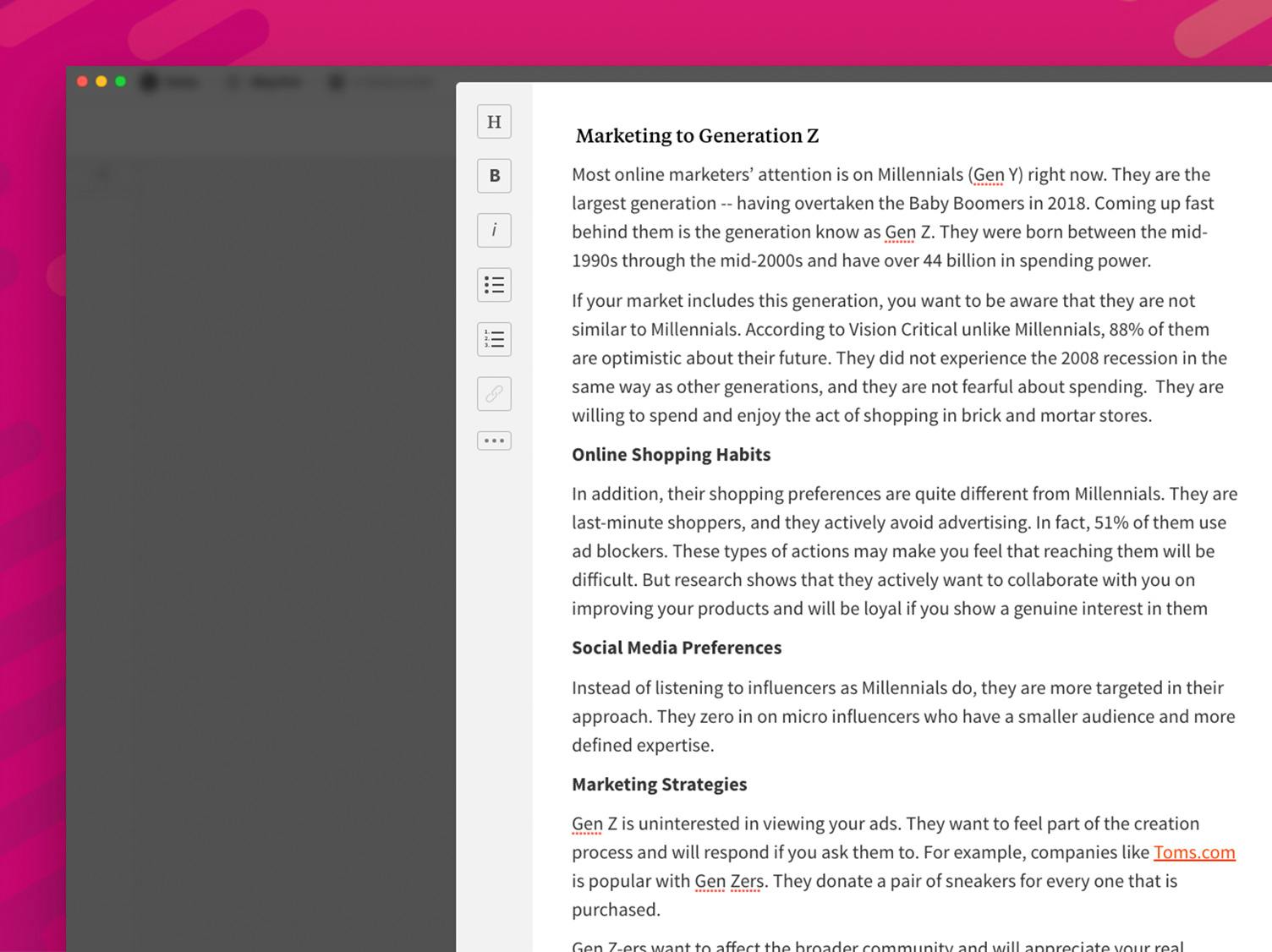 Share your work: Send it to your editor. You can invite your editor to collaborate, get feedback or ask for input.
Collaborate: They can add comments and can collaborate in real-time on the article with you.
Publish: When you're finished you can use the export options in the upper right to turn your article into a word document.