The man behind such wonderful creations as The Grinch, Sam-I-Am, and The Lorax (not to mention Thing One and Thing Two), Theodor Geisel was writing for children ever since he was a young undergraduate at Dartmouth College. Yet he wouldn't cement his reputation as Dr. Seuss, the definitive children's author, until the publication of The Cat in the Hat vaulted him onto the national map in 1957. 
But how exactly did he come up with everyone's favorite funhouse cat?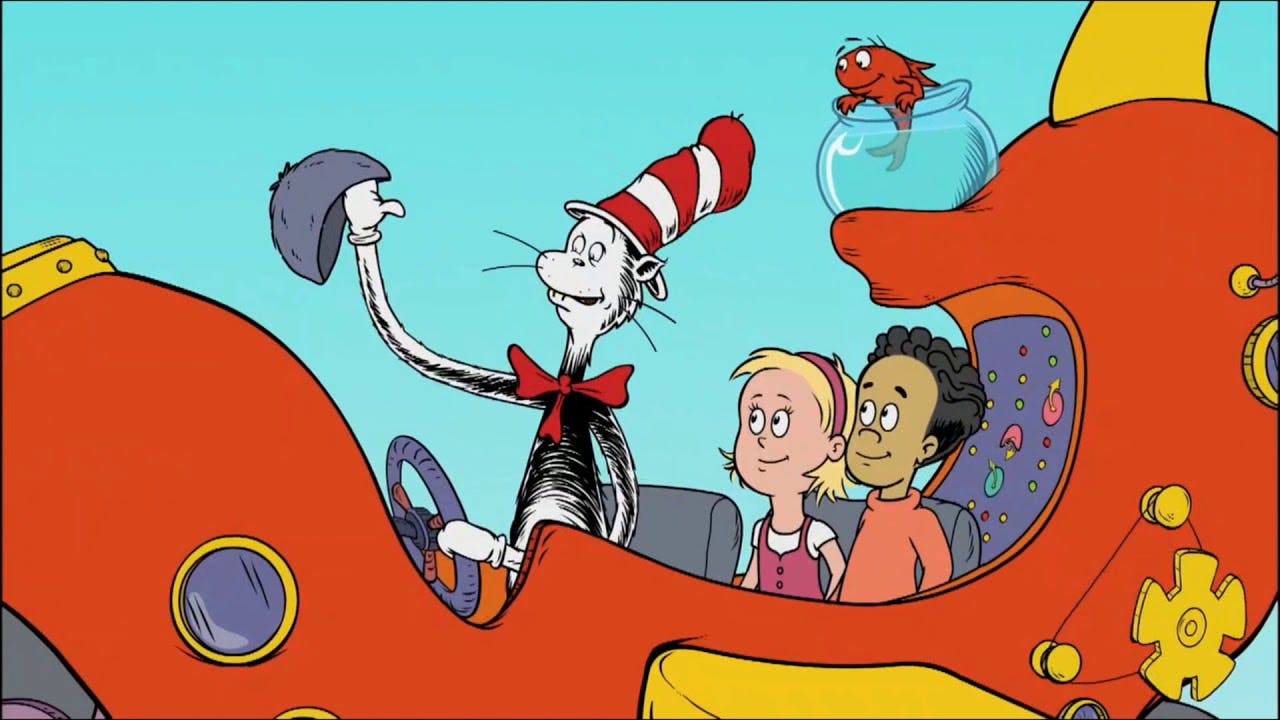 In 1954, William Spaulding, Houghton Mifflin's head of educational books, presented Theodor Geisel with a hefty challenge: write a lively children's book that could replace the dull, boilerplate Dick and Jane primers commonly found in elementary school classrooms at the time. Spaulding had gotten the idea after chancing upon a Life magazine article that criticized Dick and Jane books and questioned their ability to encourage children to read:
"Why should [school primers] not have pictures that widen rather than narrow the associative richness the children give to the words they illustrate—drawings like those of the wonderfully imaginative geniuses among children's illustrators, Tenniel, Howard Pyle, "Dr. Seuss," Walt Disney?"
Geisel, writing under the pen name Dr. Seuss, accepted Spaulding's gauntlet. But he had underestimated the project's difficulty, and struggled to start the book. 
"I remember thinking I might be able to dash off The Cat in the Hat in two or three weeks. Actually, it took over a year."
Most problematic was the word list to which he was confined. First-grade primers were strictly restrained to a vocabulary bank of merely 350 publisher-supplied words. For an author like Geisel, whose boundless, leaping imagination was accustomed to inventing words such as "yuzz-a-ma-tuzz," "nizzards," "glikker," "quimney," this was akin to working inside a prison cell:
"I was forbidden to use any words beyond [the list]. I almost threw the job up. I finally gave it one more chance and said, 'If I find two words that rhyme and make sense to me, that's the title.'"
It was fortunate that, on this read-through, his eye fell and lingered on two words: cat and hat!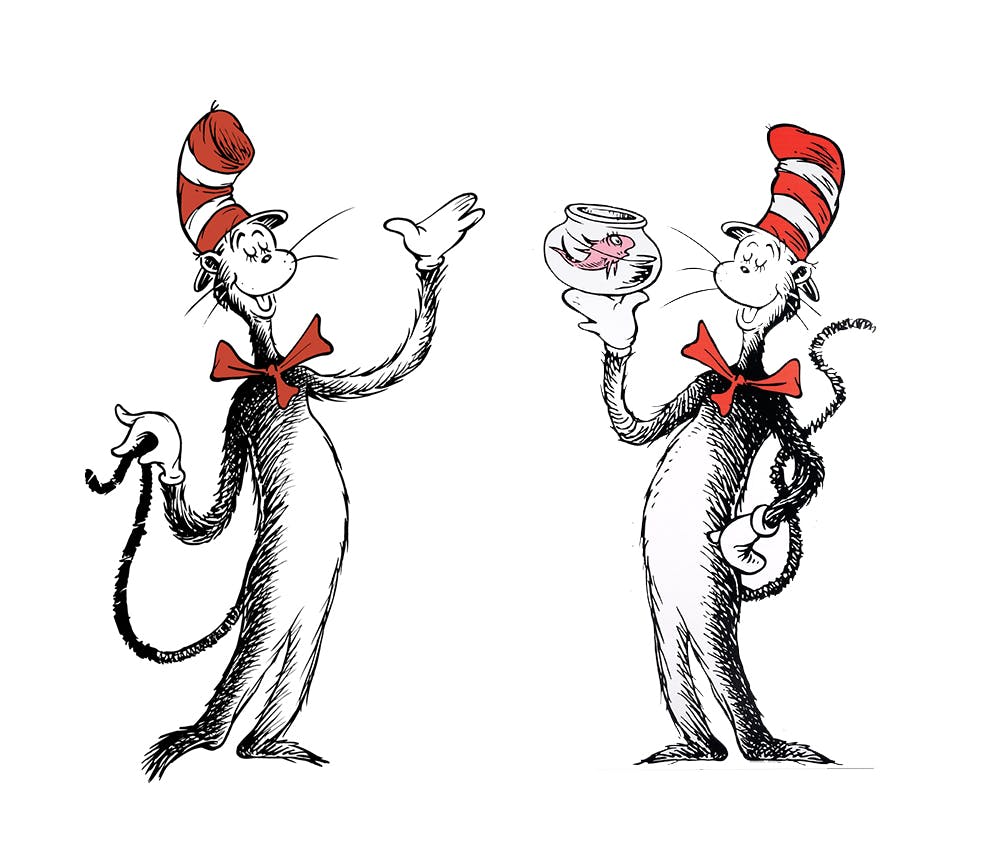 Having found his protagonist, Geisel knew that his next step was to create the look of the Cat in the Hat. His first few doodles were strongly inspired by another cat from a widely popular comic strip: George Herriman's Krazy Kat, which ran in newspapers from 1013 to 1944.
The resemblance between the two cats is still stark, from the bold splashes of white on black fur to the signature bow-tie.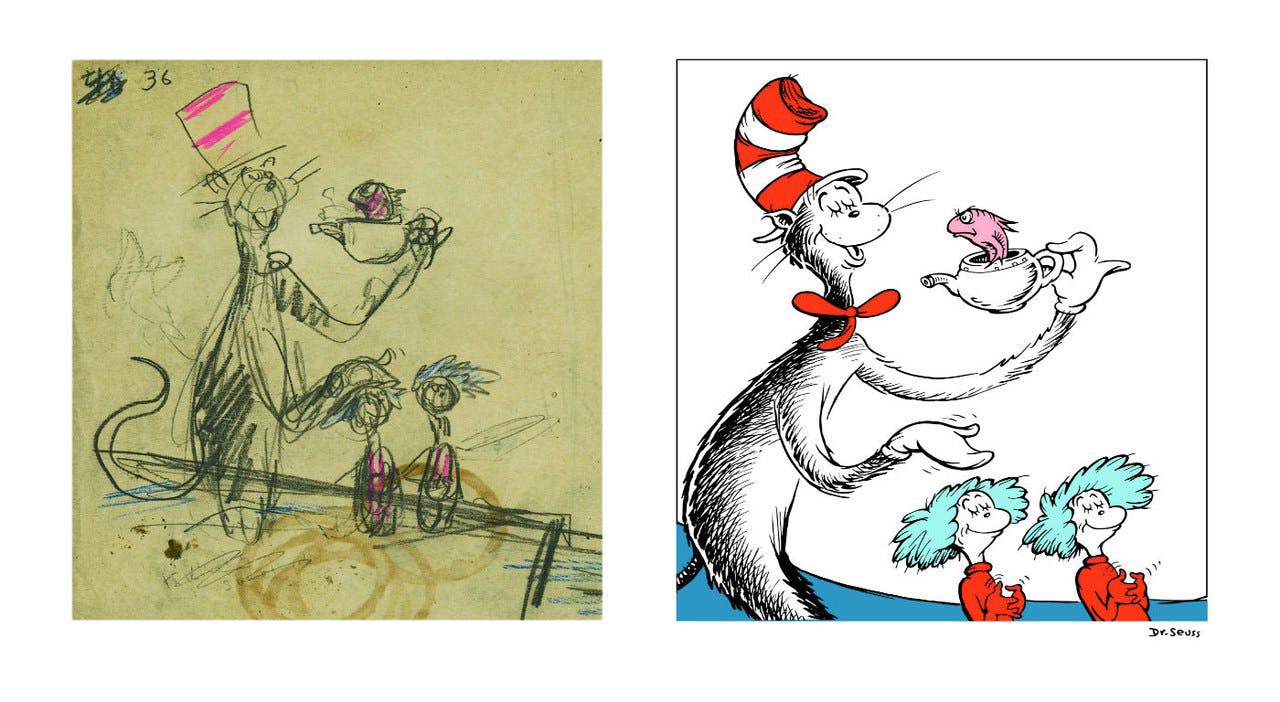 © 2014 Dr. Seuss Enterprises, L.P. All Rights Reserved
Geisel went on to write the book— to great fanfare. Today, The Cat and the Hat ranks among the best children's books ever written. Expressive, buoyant, and beautifully outrageous, Geisel's The Cat in the Hat hurtles from page to page, constantly in motion and setting events in motion. Its publication launched Theodor Geisel to nationwide fame, cementing Dr. Seuss as a household name and founding his reputation as every child's favorite author. Not to mention that Geisel accomplished it while passing the test: the final word count of The Cat and the Hat is 236 words.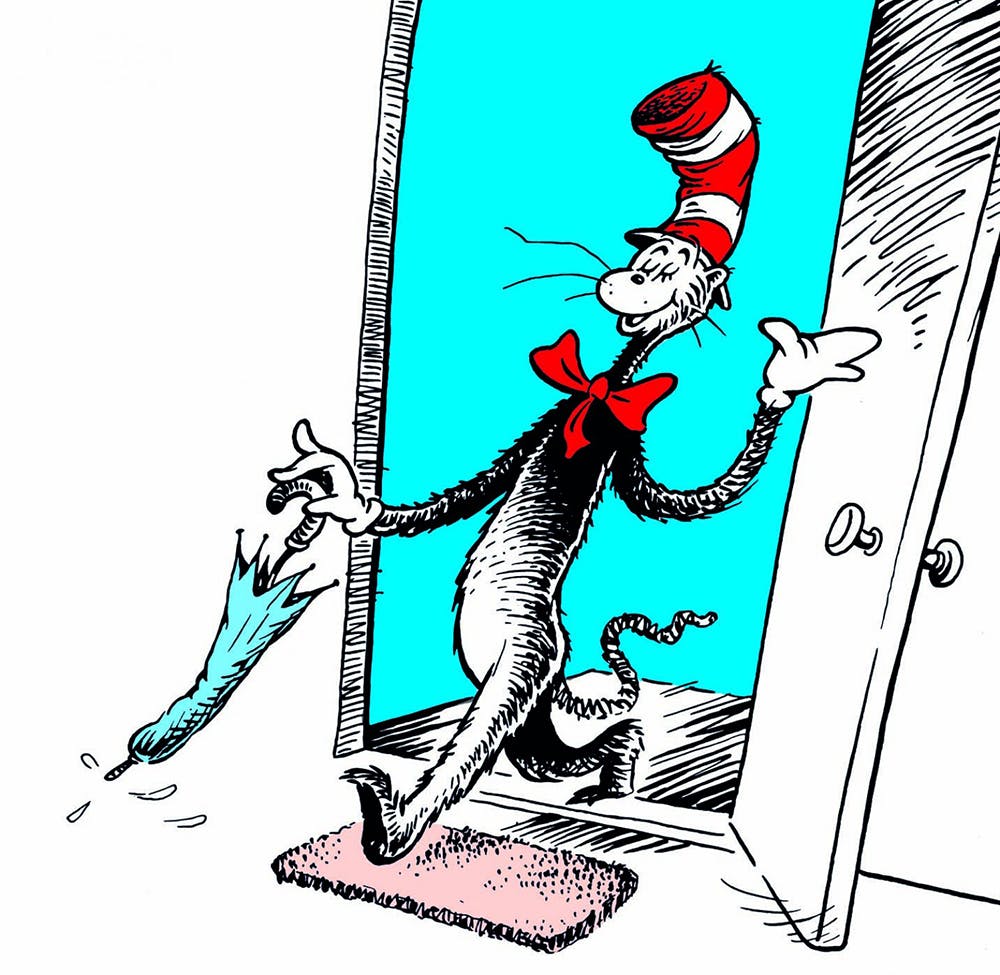 So despite his struggles during its creation phase, Geisel admitted his fondness for The Cat and the Hat years later: 
"It is the book I'm proudest of because it had something to do with the death of the Dick and Jane primers."
And for all creatives, he had this ageless advice.
"You can get help from teachers, but you are going to have to learn a lot by yourself, sitting alone in a room."