How to use this template
Whether you're a photographer or client, follow this step-by-step guide to learn the modern process of writing a photography brief in Milanote, a free tool used by top creatives.
01.
Start with an empty template
The Photography Brief template is filled with questions, thought starters and image placeholders to help you write your brief in minutes.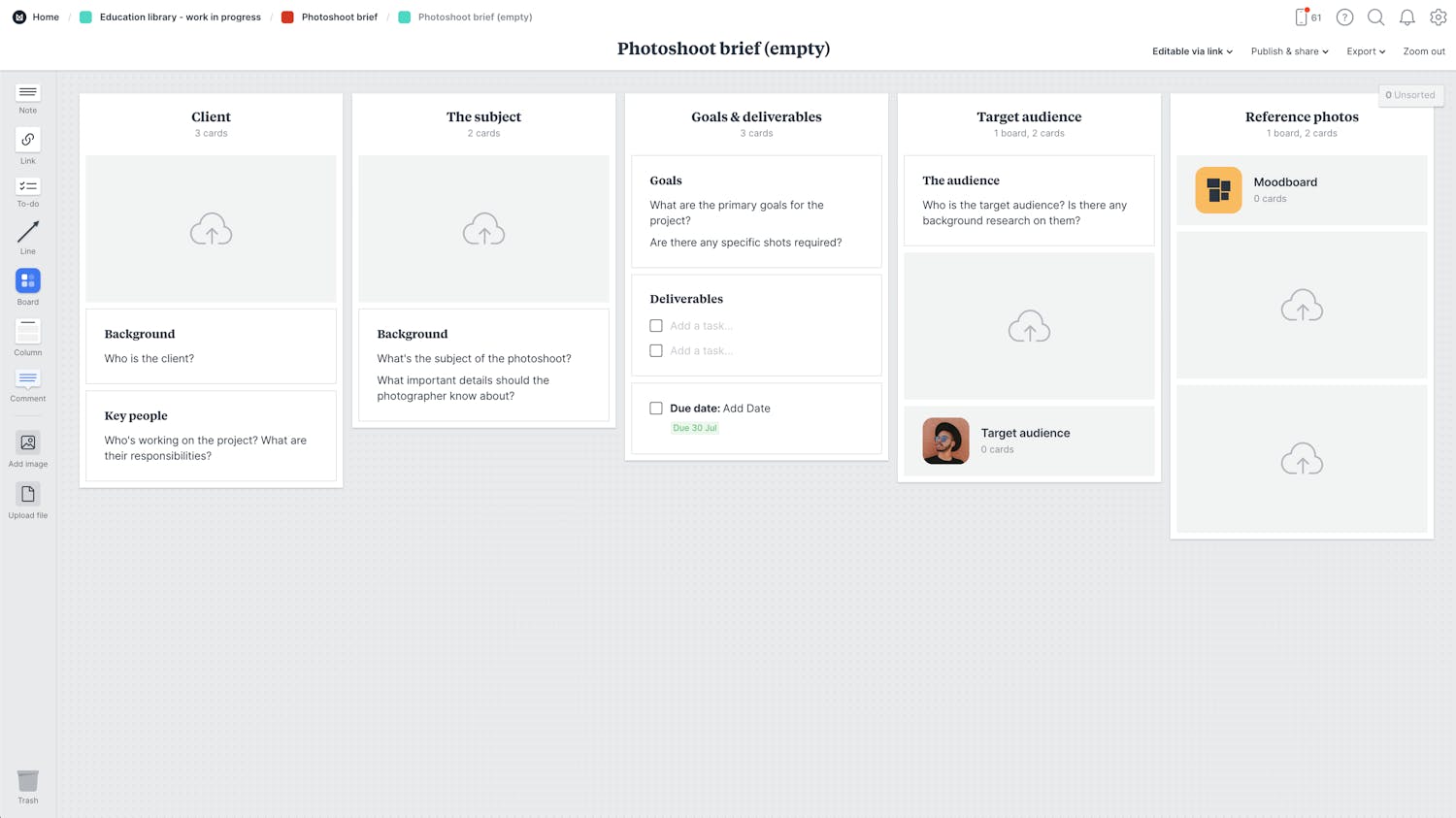 How to do this in Milanote
Create a new board for your brief.

Create a new board

Drag a board out from the toolbar. Give it a name, then double click to open it.

Choose the Photography Brief template

Choose your template 

Each new board gives you the options to start with a beautiful template.
Start by providing some background on the client for your photographer. Include details like brand values, a link to their website and some history about them. Then add contact details for the key people involved in the project to make communication easy.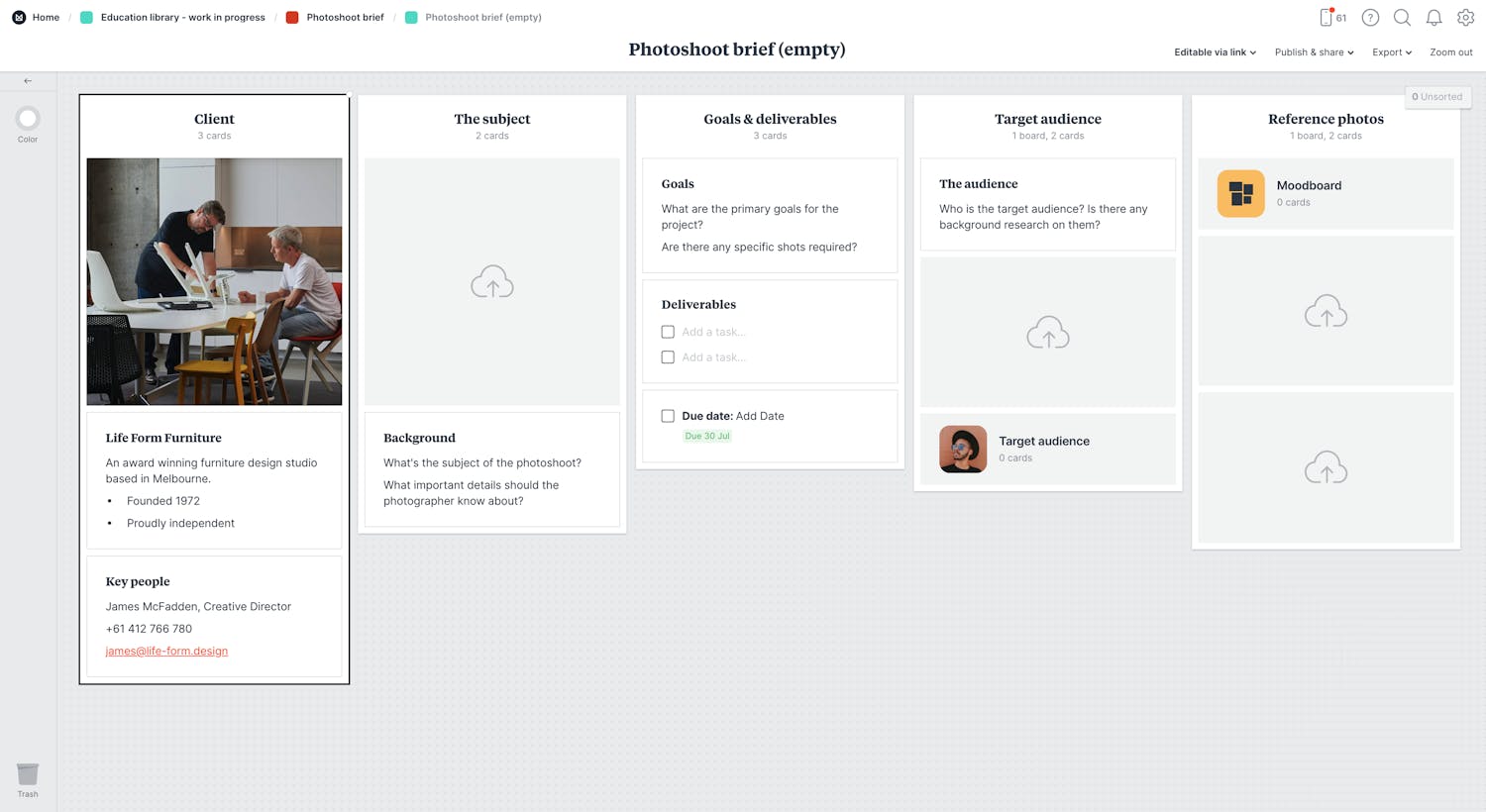 Are you shooting a new product, an interior, food or portraits? Each of these requires unique preparation, equipment and talent so try to give the photographer as much background information as possible.
04.
Write clear goals & deliverables
What do you want to communicate with through these photos? Is there a specific concept or vision you have for the shoot?
Alongside your goals, list the shots you require. How many photos do you need? Where will they be used—in print, online or social media?
This will help the photographer organize their shot-list, equipment, props and talent before for the day of the shoot.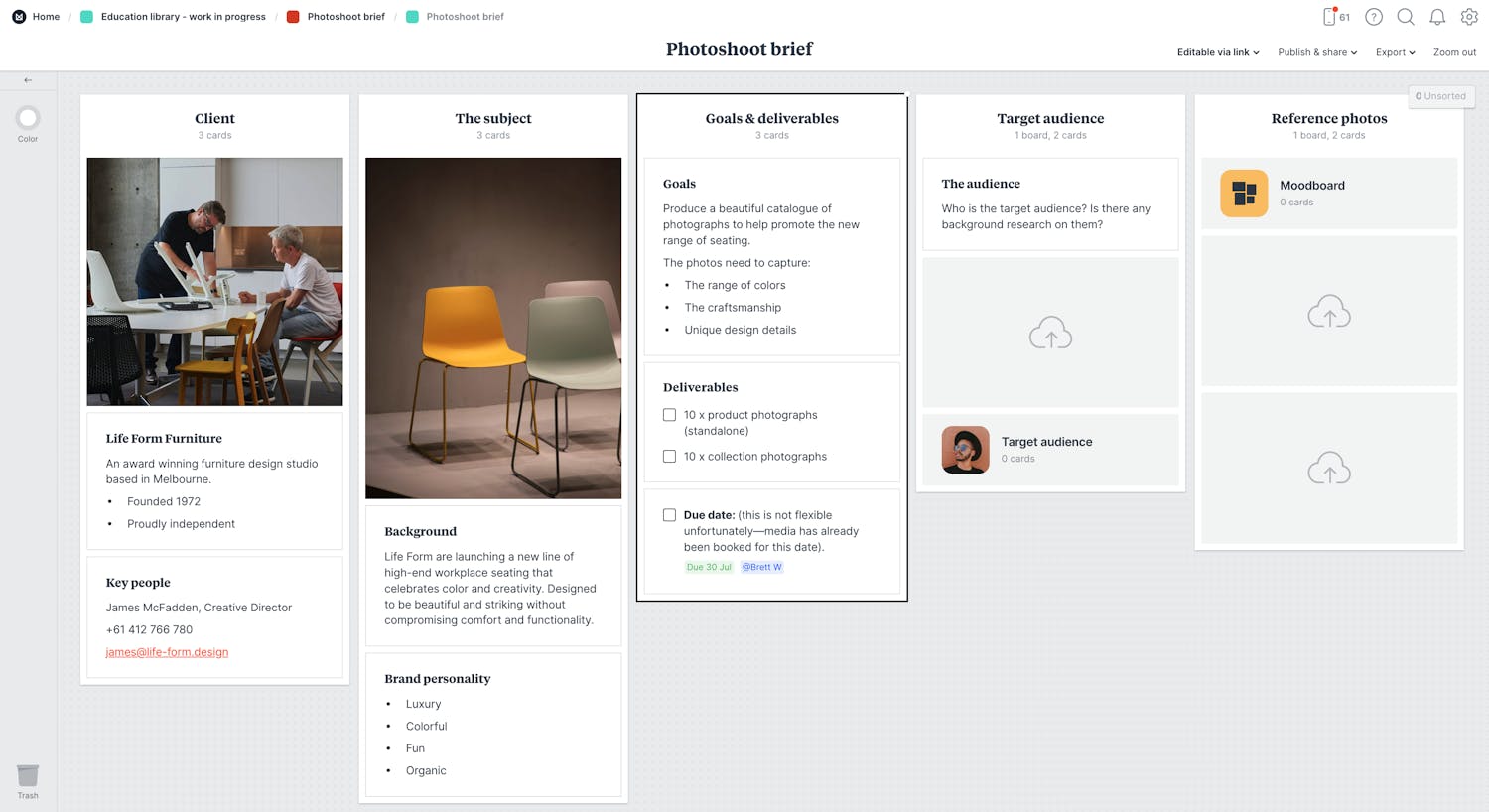 05.
Describe the target audience
This is where you describe a specific type of audience and detail what's important to them. What do they care about? What inspires them? Include any relevant research or stats you have. All this helps the photographer choose a mood or direction that speaks to your audience.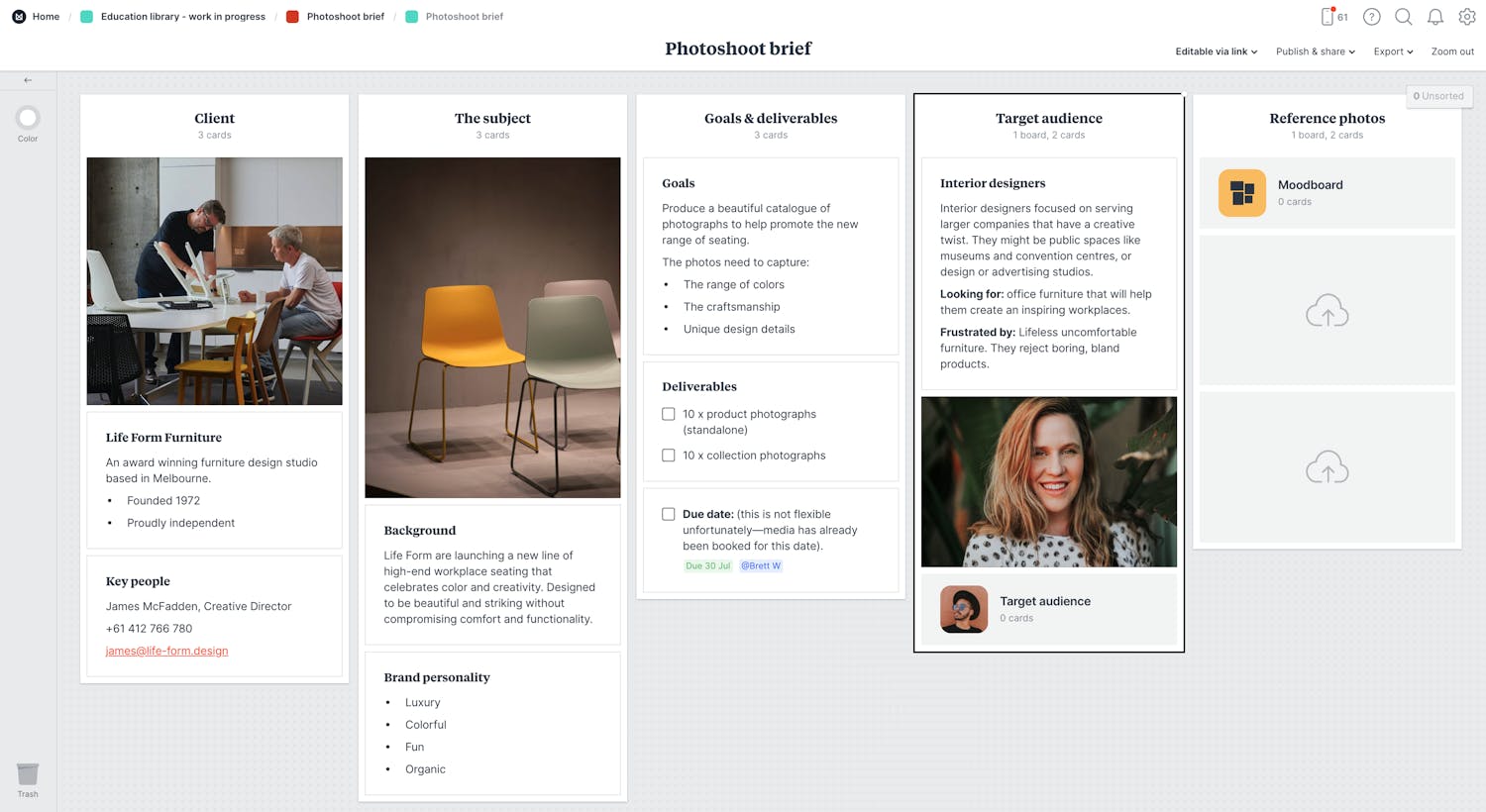 06.
Include reference photos
Add inspiring images to communicate the mood or style you want from the shoot. These could be photos from a previous campaign or inspiration you've found on the web. They'll ensure that you and the photographer are aligned on the style and visual direction from the start.
How to do this in Milanote
Browse the built-in image library.

Add a color swatch

Drag a Note card onto your board, enter your colour #HEX code and press enter. E.g. Teal looks like this: #008080

Install the Milanote Web Clipper

Save images from other websites straight to your board.

Save content from the web

Roll over an image (or highlight text), click Save, then choose the destination in Milanote. Return to your board and find the content in the "Unsorted" column on the right.
While a brief is typically written by one person, the best briefs will be run past stakeholders, clients or team members for feedback before final approval.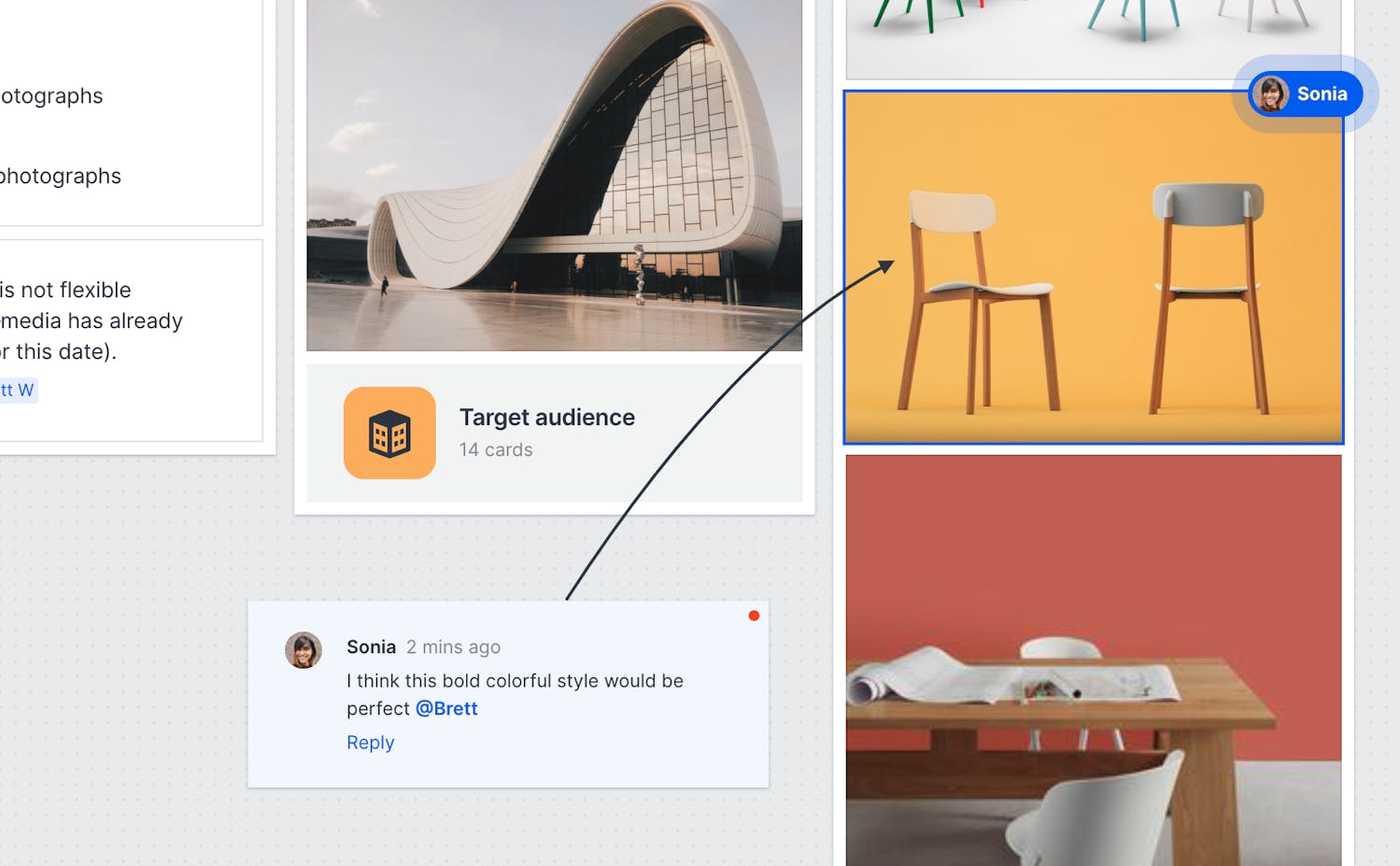 How to do this in Milanote
Invite someone else to edit to your board.

Invite editors to your board

Open the "Editors" menu from the title bar of your board. Add email addresses of the people you'd like to collaborate with—they'll receive an invitation via email.

Start a comment thread.

Start a comment thread

Drag out a comment from the toolbar on the left and place it on your board. Other editors can reply to your comment.
08.
Share the brief with your team
Once you've made any final tweaks, it's time to share the completed brief with the your team, organize a kickoff meeting and start preparing for the shoot.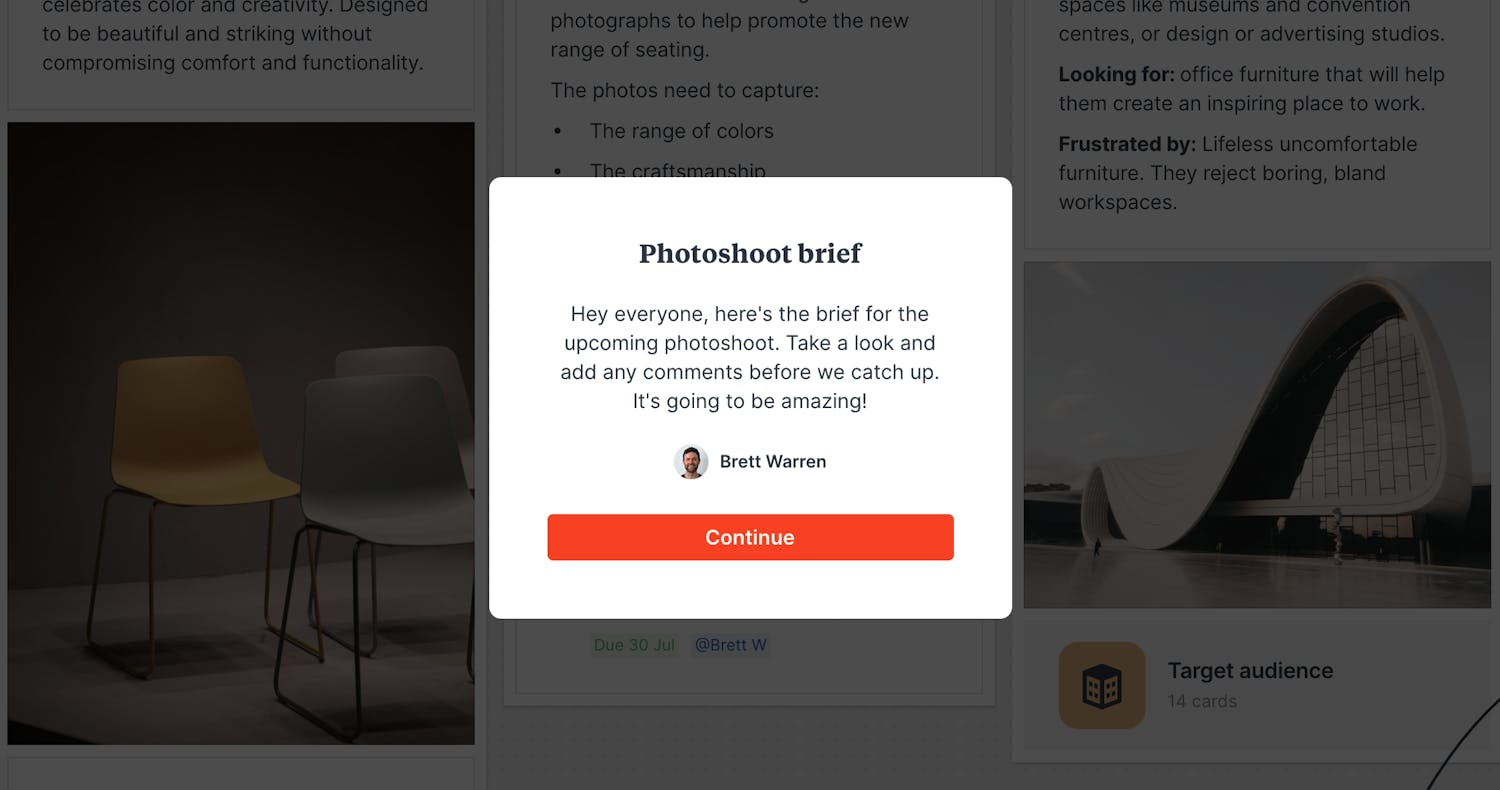 How to do this in Milanote
Publish and share the brief with your team.

Add a welcome message to your board.

Write a welcome message under the "Publish & share" menu. This will display the first time someone views your board.
And you're done!
Now that your brief is complete, you have an clear and inspiring starting point for your next photoshoot. Remember to have the brief with you on the day of the shoot and refer to it as you go to ensure you're still on track.