01.
Gather existing data on your customers
Collecting information about your audience is the first step in creating a persona. There are usually many good sources of information available, from the data that's housed in your website analytics suite to real-life conversations with customers. It really helps to spend some time gathering together the most relevant data that you have access to, and to spend some time preparing it for discussion with your team. Anyone who interacts with customers or customer data should be involved in sharing their perspective on what makes your customers tick.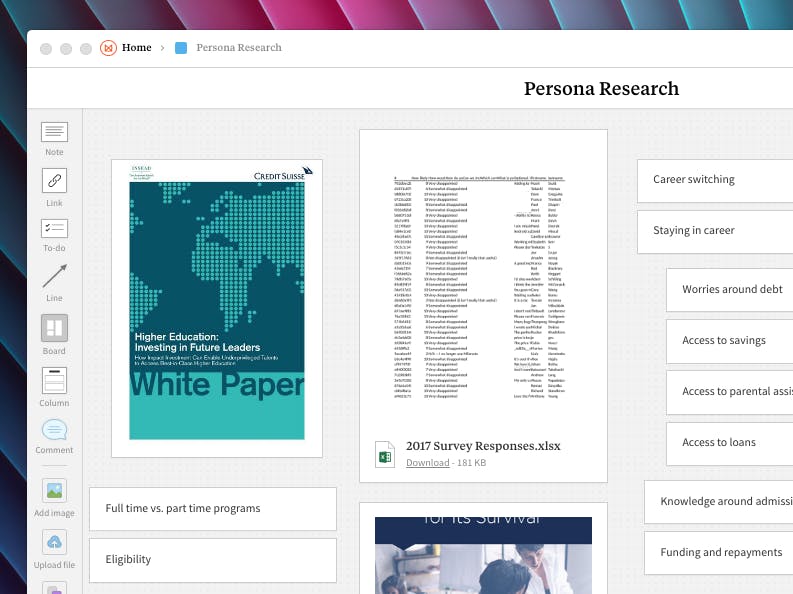 Drag a new Board in from the toolbar and title it "Persona Research" or something similar.
Milanote will automatically set an icon that represents the Board, but you can change this if you wish.
Open the Board you created and start compiling your research.
Drag in a Note from the toolbar for each piece of content (or double-click the canvas to create a new Note).
You can also drag in any useful files, such as PDFs, spreadsheets, images, etc.
02.
Interview customers to fill in the gaps
After spending time sorting through your research, you'll probably become aware of the gaps in the information you have access to. It's time to start having real conversations—after all, who knows your customers better than themselves? Surveys and interviews are often a critical component of building useful personas. Simple tools like Typeform and Survey Monkey can help you to capture survey responses relatively quickly, while interviewing customers either in person or over the phone will help you to really dive into the details.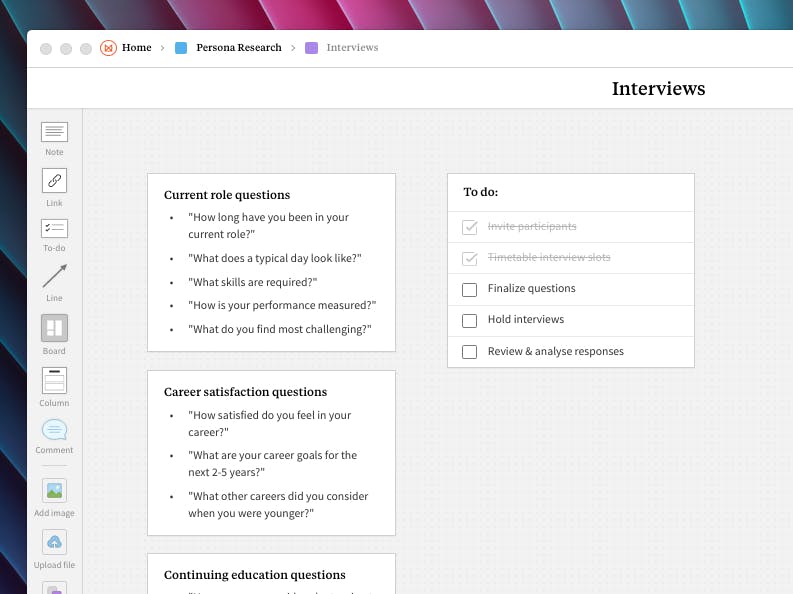 Drag a new Board in from the toolbar and title it "Interviews" or something similar. This is where your planning will take place.
Drag in a Note from the toolbar and enter each group of interview questions as Bullet list items.
Drag in a To-do list to help prepare the rest of the interview sessions.
03.
Decide how many personas are necessary
Once you've gathered all of your research together, you should start to see some common themes emerge. You can now begin to break your audience down into sub-groups or segments. There's no 'correct' number here, but we recommend creating three to five personas to represent your audience; this number is big enough to cover the majority of your customers yet small enough to still be specific.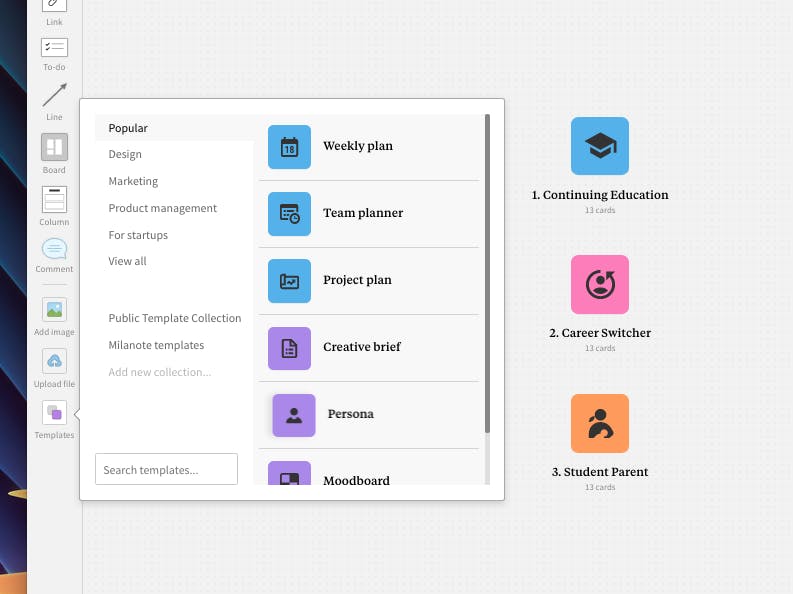 Click on the Templates button in the toolbar, and search for the "persona" template.
Drag the Template out on to the canvas.
Open the Template and click on "Clear example content" in the top right-hand corner.
Give the Board a representative name and repeat this step for each Persona that you require.
04.
Start bringing the persona to life
Now it's time to start adding that carefully collected research. Authenticity is critical for developing empathy. Your persona needs enough detail to allow you to step into someone's shoes and see your products and services from their perspective.
Give your persona a real name and upload a representative photograph. Add in some basic demographic information such as age, marital status, occupation, location, income level, and so on.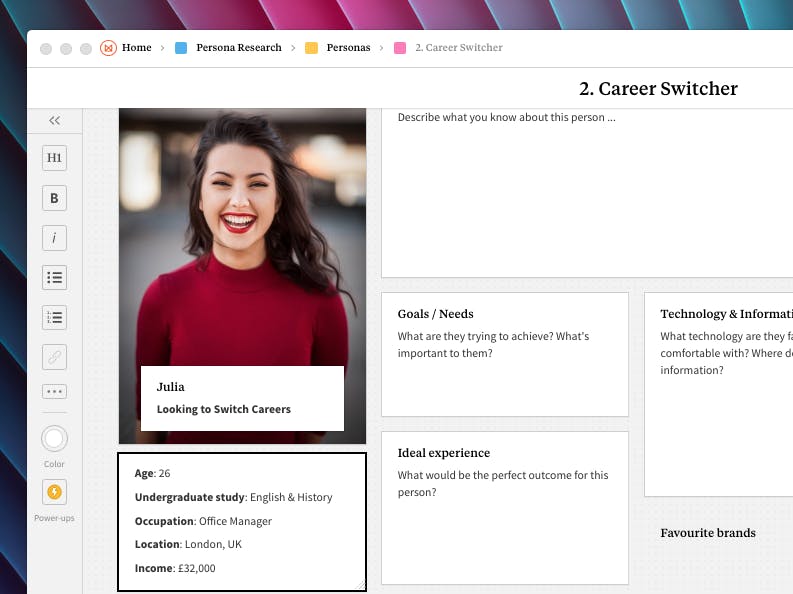 Click on the Image Placeholder to upload a photograph or Right-click to paste one from your clipboard.
Resize the Note cards where necessary by dragging the bottom-right corners.
05.
Tell your persona's story
Giving your persona an engaging back story is our next task. Here, more is usually better. Write a bio for your persona in as rich detail as you can. You might rely on these details later to lead you to a wonderful insight. Try to avoid adding unnecessary information that adds clutter or causes confusion.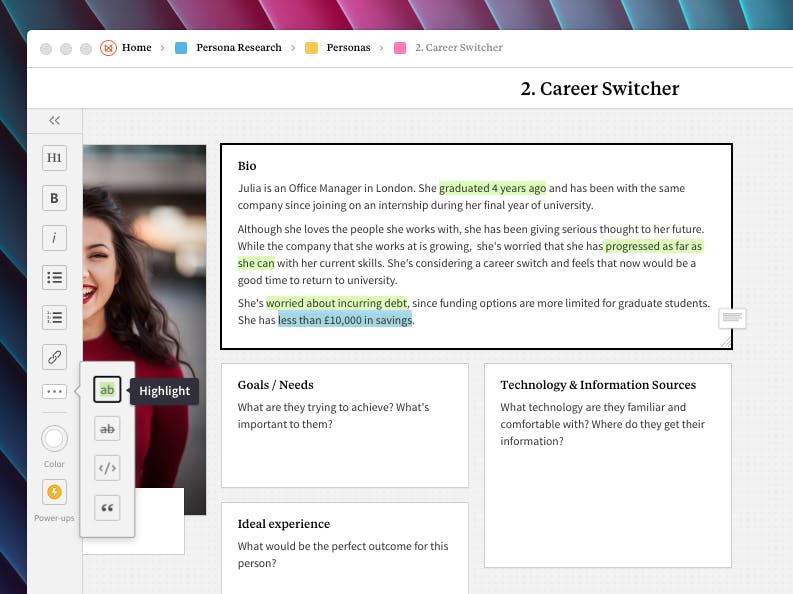 Add Highlight to the most insightful parts of the persona's background.
Click on Power-ups and select Convert to long form if you need a full screen text editor for distraction-free writing.
06.
Add goals, ideal experiences and pain points
Defining goals is extremely important. It allows you to identify how your objectives can align with the interests of your customer. Pain points are also important to consider, as removal of these challenges will likely be the key to winning your customer's loyalty.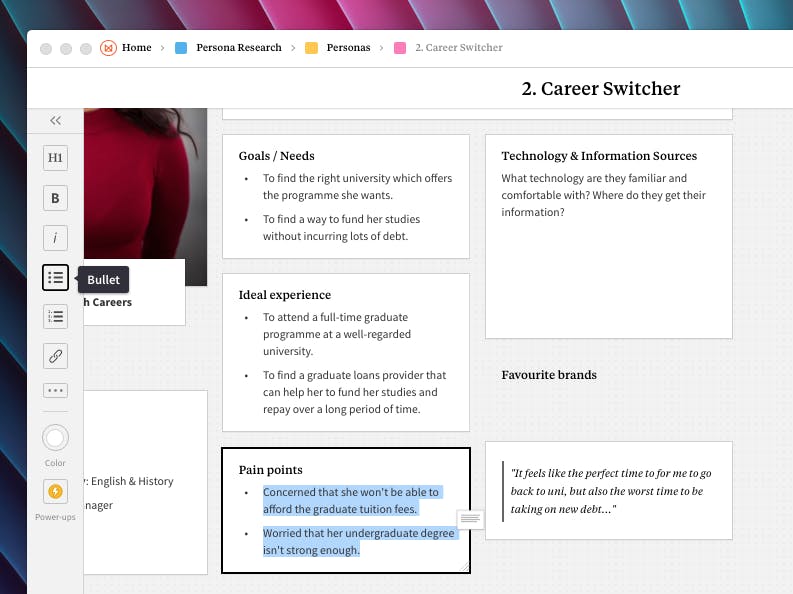 Use Bullet formatting so you can list goals, needs, ideal experiences and pain points.
Use Quote formatting to indicate an extract from a real user interview or conversation.
07.
Get input from your team
Now you have the foundation for a great customer persona, it's time to get input from your team. Sharing and collaboration is simple in Milanote. Once you've completed your persona boards, you can share these directly with clients or the rest of your team for feedback.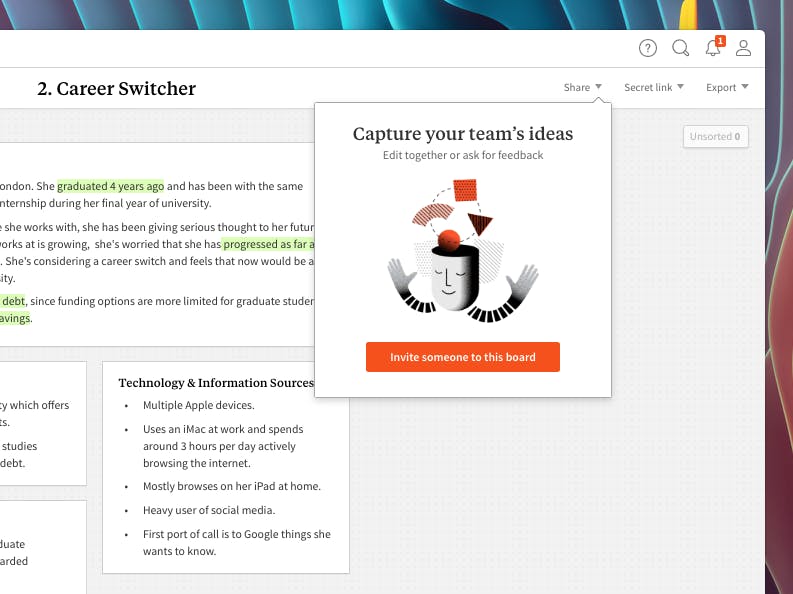 If you'd like to let someone edit the board, use the Share menu to invite them.
To share a read-only version of the board instead, create a Secret Link.
You can also Export the whole board layout as a PDF, which is great for printing or sending via email.
08.
And you're done!
The next part is up to you! Persona development is an important step in a variety of creative projects. An ideal follow-up exercise would be to use your new personas as the focal point of a brainstorming session. What new products and services can you dream up to deliver value to these segments? Get started with our persona template.