01.
Organize the brainstorming session
When you're organizing a brainstorm, it's important to include an explanation of the problem you're looking to solve and it's history. The more specific and focused you are, the better the results will be. Ensuring a good mix of attendees with different perspectives will lead to more creative results. They don't have to be the people who will execute on the ideas. Send them the brief in advance so that they have time to mentally prepare.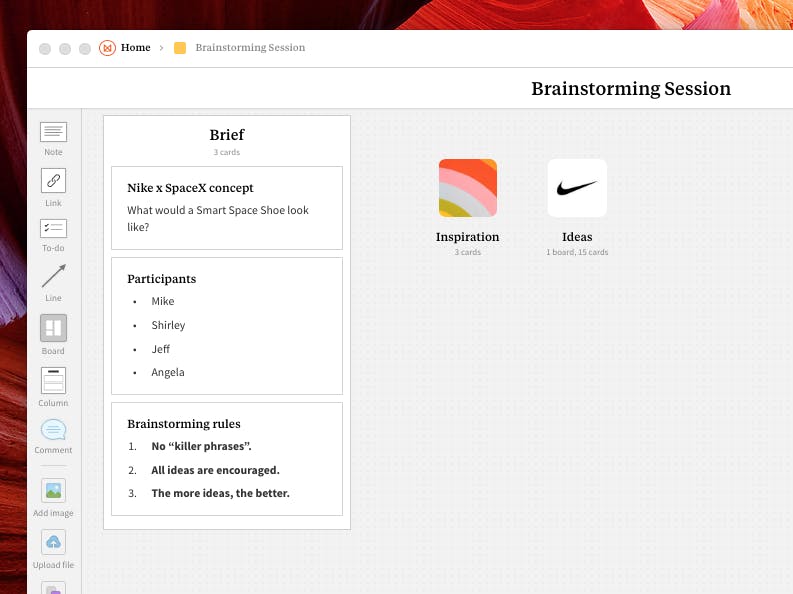 Create a brief. Don't try to cover too much in a session, focus on a specific area. E.g. How can we drive more people to our website?
Invite the right people. Aim for 3–5 people max. This ensures there's just one conversation at a time and people won't end up talking over one another.
Plan to keep it short. 45–60 minutes max. Brainstorming is hard work.
Find a quiet space. Somewhere with no distractions and plenty of wall space to work with your ideas.
02.
Lead the brainstorming session
 On the day, set the scene and explain the rules . Read over the brief and make sure everyone understands the problem. It helps to share some inspiration to get things started, so gather something in advance. Don't allow "killer phrases" to derail the brainstorm. Avoid things like "It's too expensive, it's too hard, we'll never get it done in the timeframe, the client will never go for it, that's a bit too out there". You want as many ideas as possible, they don't need to be well thought through. You can do that later.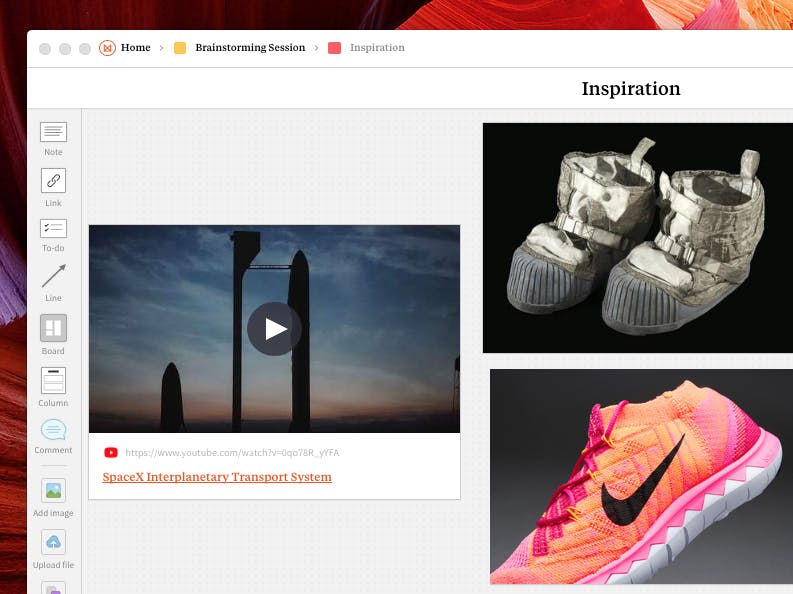 Explain the problem you're trying to solve. Share stats, watch a video or read over customer feedback to get the point across.
Explain rule 1: No "killer phrases".
Explain rule 2: All ideas are encouraged. If in doubt, blurt it out. No fear!
Explain rule 3: The more ideas, the better. Don't be afraid to prompt the team to keep going!
03.
Warm up
Everybody should be generating ideas individually. Giving everyone a stack of post it notes (or their own private Milanote board) ensures everyone knows they're expected to contribute. Brainstorming can be intimidating if it's your first time. Help people warm up by starting with an exercise (eg. asking everyone to "list three ways the world be different if rocks were soft"). After you've explained the brief, set a timer for 5 minutes and leave people to it. Timers create just the right amount of pressure.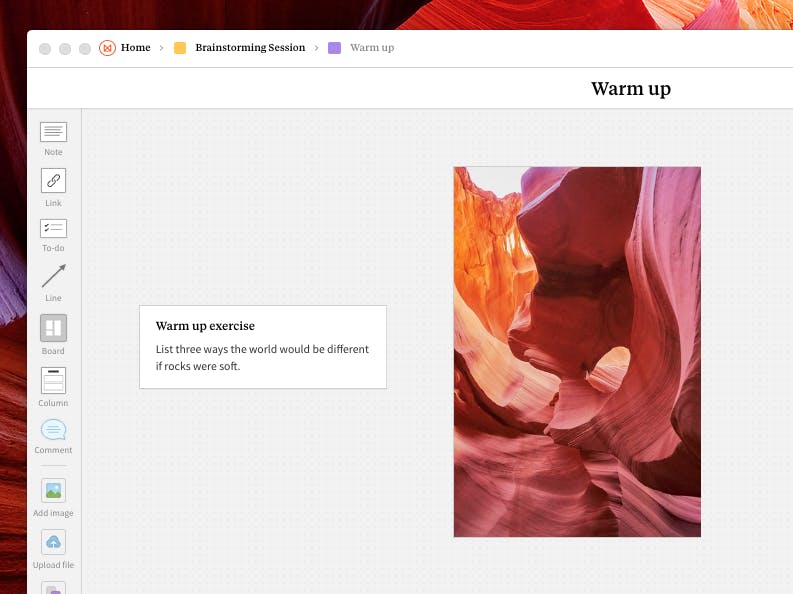 Give everyone responsibility for generating ideas.
Warm up with an exercise to get the ideas flowing.
Set a timer for 2 minutes. Start the warm up round.
Ask everyone to share their ideas one-by-one.
04.
Brainstorm ideas
Have everyone silently write their ideas on post-it notes for 5 minutes. Working around in a circle, have each person explain their ideas one at a time before moving on to the next person. Encourage people to expand on the idea and combine it with their own. Doing it one at a time ensures everyone gets airtime. Often, it's the quiet people who have the most surprising ideas. Try to add something new to each suggested idea. See how far you can take each one and embrace the ridiculous.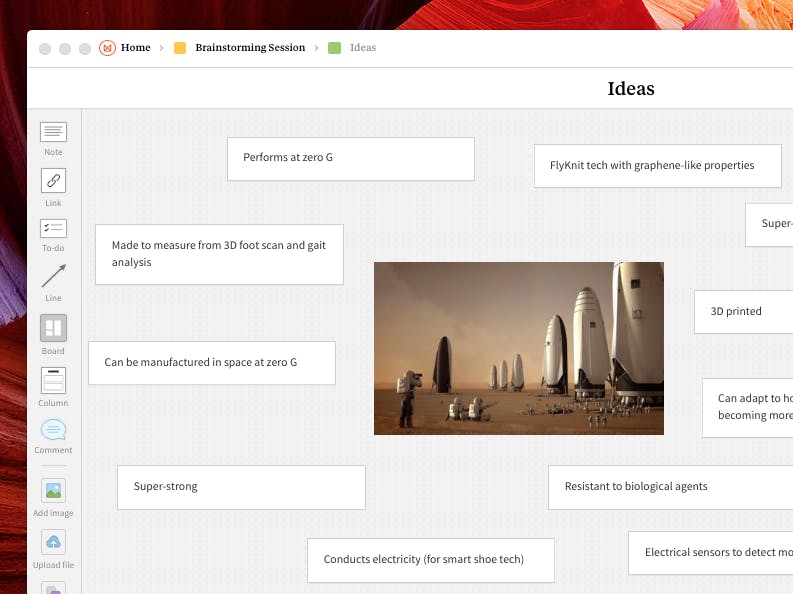 Set a timer for 5 minutes.
Everyone writes down their ideas.
Present ideas one at a time. Let people ask questions.
Defer judgement. Don't judge or cut down ideas yet (that's the next part).
The facilitator adds each idea to a Milanote board called ideas.
05.
Evaluate your ideas
Now's the time for critique. Run through the ideas again, this time critically evaluating them against the brief. Ask each person to choose their favourite ideas and explain why. Group similar ideas and you'll start to see themes emerge. Use your wall space (or Milanote) to uncover patterns in your thinking. Take the 2 or 3 strongest concepts away and start bringing them to life! Get started with our brainstorming template.